The Benefits of Fewer Sidewall Penetrations in Your Tank System
Poly Processing
When you design a chemical storage tank, it's commonplace to request extra or "spare" fittings in the sidewall. These fittings aren't designated for anything specific, but at some point you might need to add another accessory to the tank. It's convenient to have that fitting already installed and ready to go.
This is a common practice, but it's a potentially hazardous one.
Every time you penetrate the sidewall of a tank, you introduce another potential leak. Fittings have gaskets that need to be maintained and monitored for cracking. Over time, fittings and gaskets can degrade and require replacement. The fittings also need to have the proper torque on them for a proper seal.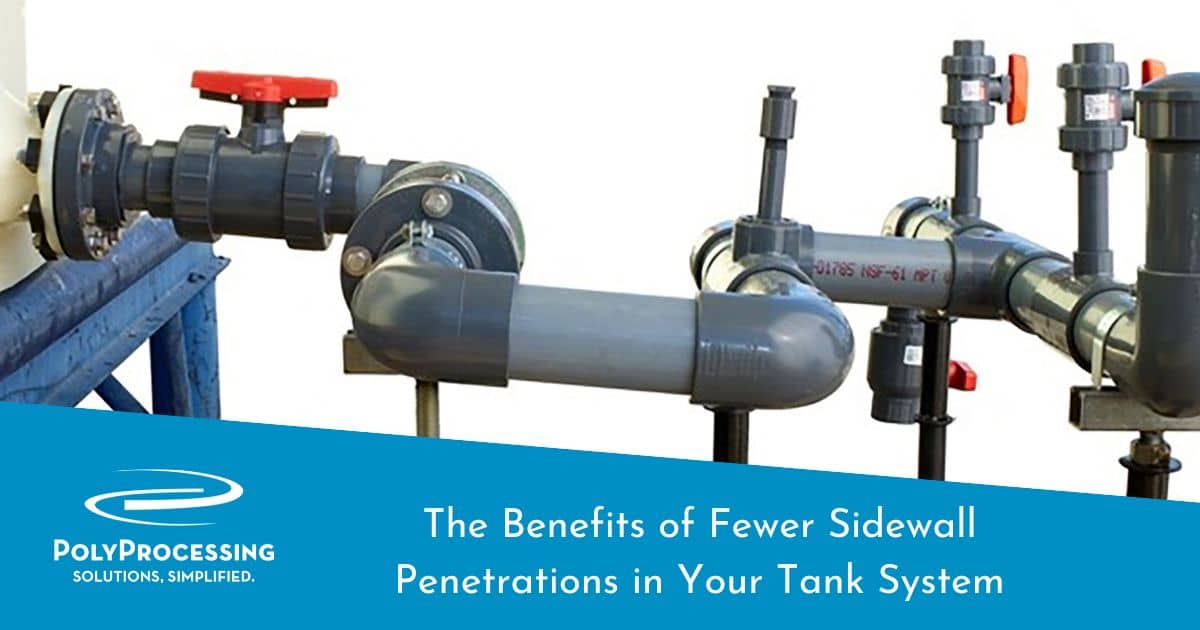 While we can provide as many fittings as you need, we prefer to reduce the number of sidewall penetrations whenever possible. Why add a weakness to the tank when you don't need it?
Poly Processing Company works diligently to ensure that our tanks are safe, so you have peace of mind. We design our chemical storage systems for maximum longevity and ease of use. One way we do that is to minimize the number of sidewall penetrations as much as possible.
Let's look at three ways Poly Processing helps reduce sidewall penetrations.
Mechanical Fittings Are Easy to Install as Needed
There are three ways that fittings are manufactured and installed, depending on the type of tank you have.
Stainless steel tanks use fittings that are welded on at the factory. The last thing you want is to have a tank delivered and eventually discover that you need another fitting. You're in a tight spot, unless you can have somebody come out, punch a hole in the tank, and weld the fitting on.
Fiberglass (FRP) tanks must have fittings installed at the factory as well. Much like welding, fittings are glassed onto FRP tanks. It's very difficult to add fittings in the field, because it requires a specialist who is willing to come out and do it.
Crosslinked polyethylene tanks are different. Because polyethylene tanks use mechanical fittings, you can install them onsite yourself — with no confined space entry and using simple tools.
Poly Processing provides instructions and videos that show you how to do it yourself — or, you can have one of our field service technicians come out and do it for you. Essentially, you simply drill a hole for the gasket, and drill the bolt holes. Put the bolts with the gaskets through the big hole and put the flange on the outside with the gasket. And you're done. Click here to watch a video on installing a fitting in the field.
If you want to extend the longevity of your tank — and your peace of mind — never add more fittings than you need. Always know ahead of time what you need before you order your tank. And if you do need an extra fitting later, it's just as easy to install that fitting in the field as it is to install it at our facility.
Reduce Fittings with a Manifold System
You may need multiple accessories added to your chemical storage tank — for example, a pressure test fitting, a couple pumps, and a clean-out port. Normally, that would require punching one hole into the sidewall for each accessory.
Why add several sidewall penetrations when you can have just one? Poly Processing's manifold system allows you to attach multiple accessories onto one fitting. Switch from one accessory to another as needed.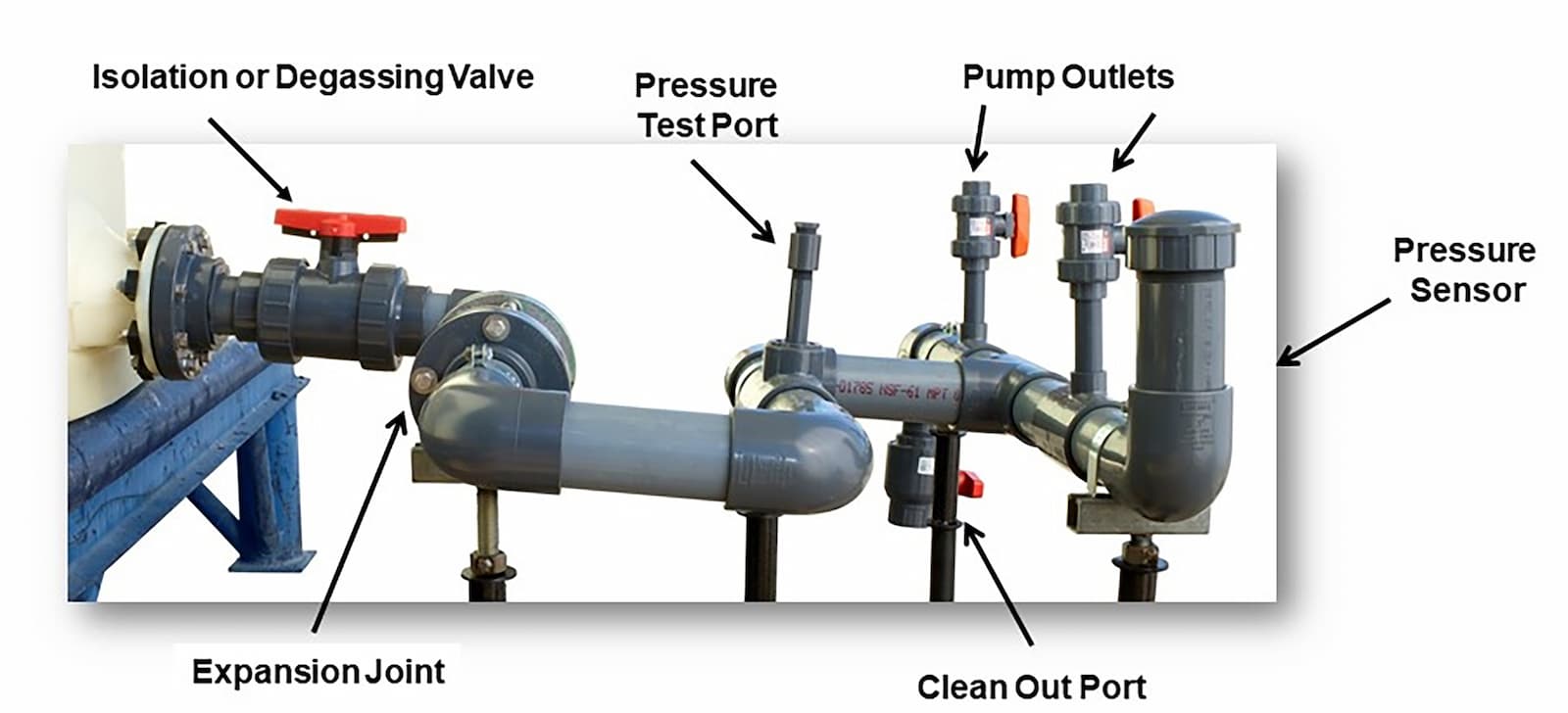 The manifold's capabilities give you several useful options off of one fitting, including:
Isolation valve or degassing valve
Pressure test port
Pump outlets
Pressure sensor or transducer connections
Clean-out port
The manifold system is designed for use on our IMFO System, but it can also be used on Poly Processing's SAFE Tank® transition fitting.
Avoid Sidewall Penetrations with a Freestanding Internal Pipe Support
If you need a downpipe or fill line in your tank, a typical installation installs brackets in the sidewall to hold the pipe in place. Poly Processing can do that as well, but there's another option.
Installing brackets means penetrating the sidewall, which introduces more opportunities for leaking. To avoid that scenario, we've developed a freestanding internal pipe support system. This system doesn't rely on any side wall brackets that are drilled into the sidewall of the tank.
The freestanding support allows you to use a fill line, reverse float level gauge, or a downpipe inside of a tank. The support system is made of PVC, so it's chemically inert for most chemicals. We also offer a freestanding exterior pipe support which is made of coated steel.
Innovative Chemical Storage Solutions
Poly Processing is committed to designing and manufacturing chemical storage tanks that will give maximum longevity while reducing costs wherever possible. Fewer fittings accomplishes both of those goals — and it gives you peace of mind that your facilities and your personnel are much safer from harmful leaks.
For more than 50 years, we've led the industry in chemical storage innovations. Discover how we can help solve your storage needs — talk to one of our chemical storage experts today.
Tech Talk Podcast Episodes
Tank Configurator

Find the recommended tank and system components for your chemical storage challenge.
Configure a Tank Package