What Is the Best Chemical Storage Tank for Power Plants?
Poly Processing
Power plants rely on several important chemicals to generate energy and operate at peak efficiency. The most sensitive application areas are cooling and boiler water treatment, since a failure in either of these areas directly impacts the facility's operations.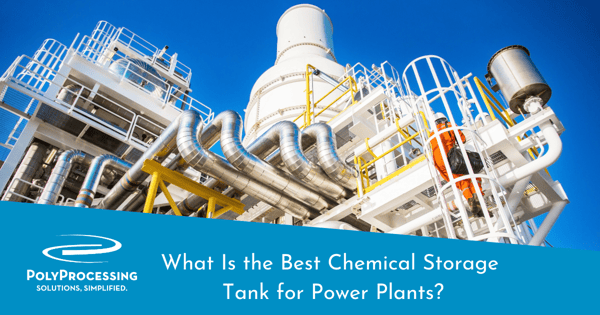 A chemical storage tank is one of the most important systems in a power plant, because if the tank fails, the entire production system could shut down.
Chemicals Used in Power Plants
Our cross-linked polyethylene (XLPE) tanks have earned a reputation for safely treating the most hazardous chemicals used in power plants. Poly tanks are storing chemicals like these in power plants across the United States:
Let's take a brief look at how these chemicals are used in power plants.
Neutralization — During this process, sulfuric acid, hydrochloric acid, or a basic chemical such as caustic soda, may be added to the water to achieve pH balance.
Removing solid particles — To facilitate the removal of solid particles within the wastewater, chemicals such as ferric chloride are used to produce positive charges to neutralize negative-charged solid particles.
Odor control — Unsurprisingly, the collection and treatment of industrial wastewater results in some unpleasant odors, and chemicals are used to control such odors at the treatment facility.
Chemical cleaning — As deposits build up in power plant equipment, solvents such as citric acid or formic acid are often used to break down and remove scale from boilers.
Reliable chemical storage depends on several factors — your industry, the size of your business, and federal, state and local regulations. Poly Processing Company can provide custom chemical storage solutions to fit your power plant needs.
The Right Storage Solution for Power Plants
Tank maintenance can be a challenge with many chemicals, which is why we developed a unique sloped-bottom tank system that minimizes the hazards associated with traditional vertical tank maintenance at a power plant. With Poly Processing's Sloped-Bottom Integrally Molded Flanged Outlet tank, or IMFO® system, the flange is molded while the tank is processing, making it a stress-free part of the tank. The floor of the tank is sloped towards the outlet, giving you the greatest possible full discharge system in a vertical tank design.
The Sloped-bottom IMFO delivers the highest amount of static head pressure, which contributes to the highest net-positive section head (NPSH) of any vertical non-coned tank.
This full discharge storage tank makes it easier to clean and maintain your chemical storage system in the following ways:
Minimizing residual chemicals.

The Sloped-bottom IMFO helps eliminate remnants of older chemicals that are left behind, preventing contamination of the new batch of chemicals.

Easier and safer tank cleaning.

The full-discharge system means plant employees don't need to enter a tank and risk contact with hazardous chemicals in the confined space.

Eliminating free radicals.

When certain chemicals are stored over time, salts, metals, and other solids fall out of the chemical and collect at the bottom of the tank. If you don't have full-tank discharge, new chemicals that are placed in your tank will mix with the salts and heavy metals and create free radicals and possibly other reactions. These free radicals attack the interior surface of the tank, which can cause damage and compromise the integrity of your chemical storage system.

Preserving structural integrity.

With flush floor / no sump systems, you may not need to drill holes in the sidewall of the tank to add fittings. The IMFO in many cases can handle several fitting functions if setup correctly. Drilling holes creates an opportunity for a leak path, and potential for deterioration of gaskets and fittings.
The sloped-bottom tank can be cleaned from the top manway, or with a spray ball installed in the dome. It's a solution that's much safer for your personnel, and more cost-effective. Chemicals used for power plants need to be stored very carefully so that their quality isn't compromised.
Tech Talk Podcast Episodes
Tank Configurator

Find the recommended tank and system components for your chemical storage challenge.
Configure a Tank Package