When it comes to fully draining a tank, cone-bottom tanks get the job done—except when they don't. The fact is, cone-bottom tanks fall short on several fronts. Cleaning cone-bottom tanks creates unique challenges, they require additional vertical space and safety precautions, and they can cost a pretty penny.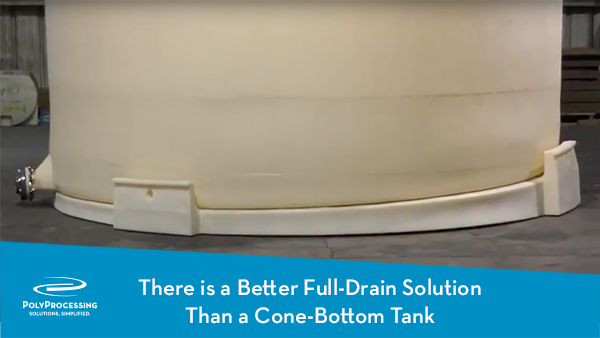 So, how do you get all the benefits of a cone-bottom tank without the high maintenance or the hefty price tag?
The solution is a sloped-bottom IMFO® Tank. This innovative solution costs much less than a cone-bottom tank with a stand and basket, and it will cut the costs of tank upkeep and employee safety over the long-haul. Here's everything you need to know about the sloped-bottom IMFO Tank and why your company shouldn't go without one.
What Does A Sloped-Bottom Tank Do?
Poly's sloped-bottom tank design allows chemicals and heavier substances, such as sludge and FOG (fats, oil, and grease) to drain easily. And because it also incorporates the IMFO drain at the very bottom of the sidewall, you'll get a 100% full drain. There are no residual materials to clean out.

In most cases, this innovative design is more cost-effective and alleviates many of the hassles that come with a cone-bottom tank.
What Make This Solution Different?
Designed for the Greatest Useful Life In the Industry
The Sloped-Bottom IMFO is a rotationally molded high-density cross-linked polyethylene tank. It is one single piece with no seams. Because the slope and IMFO are molded directly into the tank, there are no fittings and no risk of leaks or stress cracking.

The one-piece construction also enhances the tank's long-term performance, since it doesn't compromise the tank hoop's integrity or structural design.
Built for Easy Cleaning and Maintenance
The storage system also makes cleaning and maintenance a breeze. Employees will no longer need to enter the tank to remove chemicals or other substances. Instead, you can easily clean the tank using a pressure washer from a safe location.

With the full-drain system, you'll never need to worry about material staying in the bottom of the tank and collecting over time.

Any required maintenance is simple and hassle-free, as the flange extends away from the tank wall. The entire flange system is external with easy hardware access from outside the tank, unlike metallic inserts.

This also eliminates any chemical compatibility issues like those you may encounter in tanks with metallic inserts. If the chemical is safe in a polyethylene tank, it's also safe draining out of the system.
Engineered to Solve Customer Problems
The Sloped-Bottom IMFO Tank was designed and engineered by our team to solve the problems our customers were facing. We work with each customer to understand their storage requirements and build the right solution to fit their specific needs.

Come see our Sloped-Bottom IMFO Tanks at the WEFTEC 2019 Show September 23-25 in Chicago at booth #4241.

Ready to get started? The Sloped-Bottom IMFO Tank is available in any size we manufacture from all three of our manufacturing sites. Contact a tank expert today to start building your storage solution..