Chemical Fume Scrubbers - How They Work and Poly Options
Poly Processing
In most cases, chemicals stored in polyethylene tanks require venting. In some instances, the harmful fumes emitted from the chemicals can not be directly released to the atmosphere. In order to reduce the harmful fumes before they evacuate the system and to control air pollution, fume scrubbers are installed.
Let's take a look at how fume scrubbers work and the scrubber solutions for polyethylene tanks offered by Poly Processing Company.
How Fume Scrubbers Works
Fume scrubbers are installed to remove or neutralize the harmful substances emitted from combustion, or in this case, the storage of chemicals. There are two main kinds of scrubbers, dry scrubbers and wet scrubbers.
Dry scrubbers are used to remove acid gases primarily from combustion sources. These scrubbers function by introducing an acid gas sorbent material into the gas stream and a particulate matter control device.
Wet scrubbers function by contacting the target compounds with a scrubbing solution. Often, the solution is simply water, but can be a reagent to address specific chemicals. Some of the chemicals that are stored in Poly Processing Company tanks which require venting are hydrochloric acid, ammonia, and acetic acid. When storing these types of chemicals, it's important to construct a system that address venting needs by installing a compatible scrubber.
PolyScrub: A Simple, but Effective, Fume Scrubber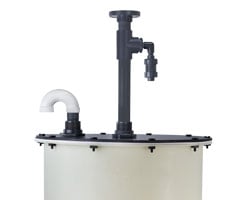 Poly Processing Company offers a cost-effective polyethylene chemical storage tank scrubber solution called PolyScrub. As with typical wet scrubbers, the PolyScrub system introduces water or a specific scrubbing solution through a submerged plenum. The fumes percolate up and through the scrubbing solution, then vent out of the top of the scrubber system.
When fitting a PolyScrub system, normally a 6" vent pipe is installed in the bulk tank. The pipe elbows over and down and connects to a flange attached to the top of the scrubber. This allows the bulk storage tank to vent into the scrubber and not into the atmosphere. Scrubbers are typically sized for the bulk storage tank being used and the chemical needing to be scrubbed. If your storage tank needs a scrubber or you are not sure, please contact us for more detailed information.
For more information and technical specifications, please download our PolyScrub Product Guide.
Tech Talk Podcast Episodes
Tank Configurator

Find the recommended tank and system components for your chemical storage challenge.
Configure a Tank Package