Chemical Storage Tank Failure Is Dangerous and Expensive
Poly Processing
When a chemical storage tank fails, the costs can be significant to your organization. Regulatory concerns, environmental cleanup, lawsuits from property damage, and injury to employees are costly exposures.
Let's take a look at a few of the reasons chemical storage tanks fail.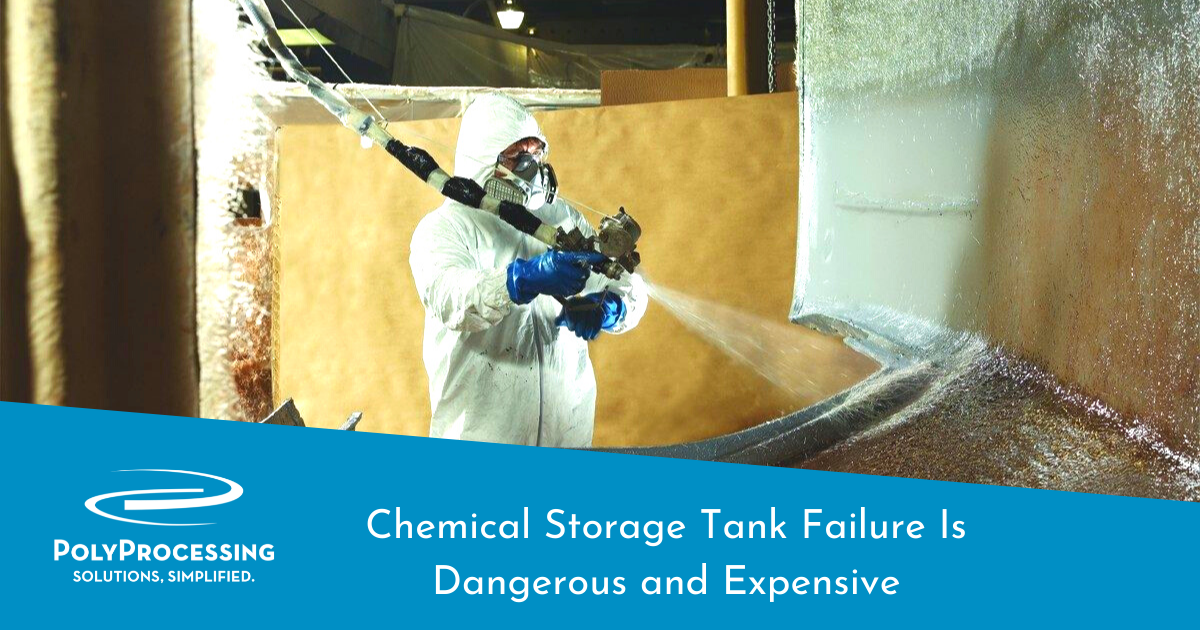 Manufacturing Update
We know that delivery times are critical to our customers. That's why we are working diligently to ship every order within 5-7 weeks. FRP tank manufacturers and many poly tank manufacturers are giving their customers a 22-36 week plus shipping window based on lack of raw material sourcing, Covid-19, etc. At Poly Processing Company we deliver your product in one fourth of the time.
Before you order an FRP tank, make sure the manufacturer gives you the price and leadtime up front. If you don't get price and leadtime up front, you could be in for a rude awakening.
Trusted, consistent, and expeditious, Poly Processing's rotationally molded crosslinked tanks are by far the toughest polyethylene tanks offered to the chemical market. With our 5-7 week delivery window, we strive to deliver peace of mind and an ease of business to each and every customer. Call us at 866-765-9957 and let us help you, we understand response time!
---
Steel Storage Tank Failure
Steel is often seen as an ideal material for chemical storage tanks, because of its resistance to degradation. But tanks constructed from mild or stainless steel are subject to failure in two main areas.
Steel chemical storage tanks are fabricated with sheets of metal, which are welded together to form the tank. Leaks can form at the weld seams, especially if the weld quality is poor.
In addition, chemical attacks can break down the integrity of the metal itself. For example, sulfuric acid can become very aggressive if concentrations are below 93%, resulting in acid etching. Acid etching reduces the structural integrity of the stainless steel tank. The chemical concentrations can then become altered due to improper venting, increased humidity, or different concentrations from the supplier.
We recommend performing regular inspections on your steel chemical storage tank. Pay particular attention to the weld seams.
Fiberglass Storage Tanks
Fiberglass is a multi-layer composite construction with an outer layer of resin. Fiberglass reinforced plastic (FRP) tanks can be prone to micro cracks. Once the resin layer is compromised by micro cracking, it can impact and compromise the structural filament layer of the tank. Chemicals will tend to find the cracks and expand the damage.
Micro cracks in FRP tanks can lead to tank leaks, potential tank failure, and catastrophic failure of the tank. It is very difficult to repair the entire compromised area when micro cracks develop in fiberglass reinforced plastic storage tanks.
Polyethylene Chemical Storage Tanks
There are two types of polyethylene tank construction. Both create storage tanks that are free of welds or seams: linear (non-molecular bonded) and cross-linked (molecular bonded) polyethylene.
Linear poly storage tanks have the potential to come apart at the polymer chains. This is due to a lack of molecular bonding and a reliance on static attraction to gain strength. This is known as the van der Waals force. Be very cautious when selecting linear polyethylene material for chemical storage tanks, because it is designed to be a general purpose material. Linear polyethylene is used in many applications, from toys to containers.
When designing a linear polyethylene tank, it is very important to consider its susceptibility to crack propagation. Furthermore, installing a fitting creates an environment that can lead to cracks. Fitting areas need to be inspected for cracks on a regular basis. A linear poly tank under pressure, or even under static load, can experience a catastrophic failure, similar to what happens when dropping a gallon of milk that splits apart.
Cross-linked polyethylene chemical storage tanks are covalently bonded, or molecular bonded. They are extremely resistant to stress cracks. Just like all chemical storage tanks, special attention must be paid to the mechanical fitting on a cross-linked poly chemical storage tank.
If stress occurs due to over pressurization or hard piping, spider or micro cracks can form. The advantage of cross-linked polyethylene is that in most cases it will not catastrophically fail. It may, however, require you to cut the compromised section out of the tank and install a larger fitting or replace the tank. While this may be more costly, the risk of large cracks and catastrophic failure of cross-linked polyethylene storage tanks is low.
Storing chemicals safely and avoiding the expense of a chemical leak or catastrophic failure of a storage tank is always a concern. Carefully consider the materials and construction of the storage tank and the chemicals which are being stored.
Tech Talk Podcast Episodes
Tank Configurator

Find the recommended tank and system components for your chemical storage challenge.
Configure a Tank Package