Can a Fiberglass Reinforced Plastic Tank Be Properly Repaired?
Poly Processing
Purchasing a high-quality chemical storage tank is a significant investment for your company, and choosing the right tank for your needs isn't always an easy decision. If you're considering a fiberglass reinforced plastic (FRP) tank, be sure you understand the concerns and challenges you'll face if your FRP tank needs repair.
Let's examine the challenges of fiberglass tank repair to determine if fiberglass tanks are a wise choice in the long run for chemical storage at your facility.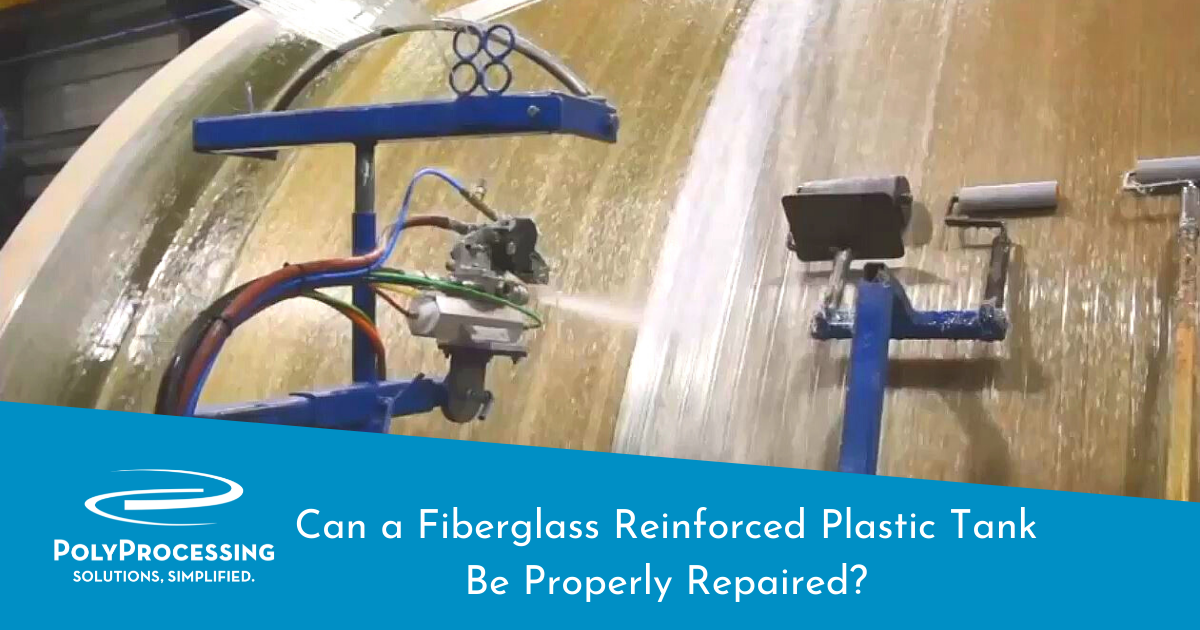 Manufacturing Update
We know that delivery times are critical to our customers. That's why we are working diligently to ship every order within 5-7 weeks. FRP tank manufacturers and many poly tank manufacturers are giving their customers a 22-36 week plus shipping window based on lack of raw material sourcing, Covid-19, etc. At Poly Processing Company we deliver your product in one fourth of the time.
Before you order an FRP tank, make sure the manufacturer gives you the price and leadtime up front. If you don't get price and leadtime up front, you could be in for a rude awakening.
Trusted, consistent, and expeditious, Poly Processing's rotationally molded crosslinked tanks are by far the toughest polyethylene tanks offered to the chemical market. With our 5-7 week delivery window, we strive to deliver peace of mind and an ease of business to each and every customer. Call us at 866-765-9957 and let us help you, we understand response time!
---
What Is Fiberglass Reinforced Plastic?
Fiberglass storage tanks are filament-wound or hand laid up. Fibers are intertwined into a nexus veil that is wound onto a spool. In this spool, the fibers create a fiberglass layer with added resin, which keeps them bound together.
The winding construction method means that fiberglass tanks are inherently constructed with seams in the tank walls. As a result, there is an opportunity for weak points that are vulnerable to leaks.
Concerns About Fiberglass Storage Tanks
The mechanical properties of fiberglass raise concerns when using fiberglass tanks to store certain harsh chemicals. While fiberglass reinforced plastic is the material of choice for storing petroleum-based products such as gasoline and kerosene, it can have its drawbacks when storing harsh chemicals.
The area between the filament layer and the resin is inherently weak in fiberglass reinforced plastic tanks, which makes FRP more prone to attack from oxidizing or corrosive chemicals such as sodium hypochlorite or sulfuric acid.
Additional concerns with fiberglass reinforced plastic tanks include:
Seams – Hand-laid fittings are a major limitation with fiberglass reinforced plastic. Because the fittings are installed after the tank shell is created, additional seams are needed in the manufacturing process. Sometimes attachment bond failure can happen as well due to fittings being added on later.
More rigid, brittle material – While FRP can be lighter than polyethylene or steel tanks, the multi-layered material is more rigid and requires special handling during transportation and installation. Impact damage can be a real issue if the tank is not handled with extreme care.
Prone to scratching – Scratches to the outer resin layer can compromise the fiberglass tank. Any impact with the outside shell of the tank that results in a scratch can lead to micro cracking and compromise the tank.
Limited UV Protection – While a polyethylene tank is manufactured with built-in UV inhibitors and storage tanks can be manufactured using a carbon black resin to provide additional UV protection, you must specify this option with FRP tanks.
Etching of the Glass Resin – Certain chemicals, like Hydrofluosilicic acid, can etch the glass and compromise the tank's integrity.
Download the FRP vs. Polyethylene Tanks Comparison Guide
Challenges of Repairing Fiberglass Storage Tanks
Fiberglass reinforced plastic tanks can be prone to micro-cracks. Given the interwoven strands of the glass layer used in FRP tanks, the origin of the crack is often difficult to locate. Micro cracks in FRP tanks can lead to tank leaks, potential tank failure, and catastrophic exposure. It is very difficult to repair the entire compromised area when micro cracks develop in fiberglass reinforced plastic storage tanks.
FRP tank repairs can be expensive and disruptive to your operations. In most cases, you will need to drain the tank and place the remaining chemical in a temporary storage tank. The damaged FRP tank must be cleaned and pressure washed so that it can be repaired from the inside and outside of the tank. Depending on the severity of the problem, repair costs can be exorbitant.
Indirect repair costs include downtime, labor costs of handling the issue, and interruptions in your production schedule.
Another Option: Polyethylene Storage Tanks
When evaluating your chemical storage options, carefully weigh the advantages of a crosslinked polyethylene chemical storage system for storing harsh and corrosive chemicals. Crosslinked poly storage tanks minimize expensive maintenance and repairs and reduce the risk of catastrophic tank failure. Over the useful life of the tank, they can be much less expensive than FRP tanks.
Tech Talk Podcast Episodes
Tank Configurator

Find the recommended tank and system components for your chemical storage challenge.
Configure a Tank Package