Craft Brewing Tanks: A Look At Cost-Effective Poly Storage Solutions
Poly Processing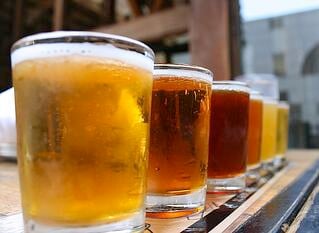 The popularity of craft brewing is exploding across the United States. To date, over 3000 craft breweries exist. Smart, flexible, cost-effective storage of the dry ingredients, water, and cleaning agents and chemicals used in the brewing process is essential.
Let's explore the materials requiring storage in the brewing process, the challenges of storing these materials, and advantages polyethylene storage tanks offer to craft brewery operations.
Craft Brewing Storage Requirements
A number of storage tanks or vessels are needed in the craft brewing process:
Dry Ingredients: At the start of the process, poly tanks are used to store yeast, hops, barley and other ingredients needed.
Water: Poly tanks store purified water used to make the beer and are also used after the brewing process to re-purify excess water before release into the sewer system.
Additives: Additives are used in the brewing process to adjust the pH levels of the water to maintain consistent quality. Additives are also used post-brew to balance pH levels for discharge into the waste water system.
Clean-In-Place: High purity acids and cleaning agents are needed to clean the brewing process equipment to ensure quality and prevent bacterial growth.
Storage Challenges

Preventing bacteria growth within the storage tanks and process equipment is absolutely critical in the craft brewing business. Dry ingredients such as yeast, hops, and barley must be stored in full drain tanks. A cone-bottom tank or an IMFO tank allows full tank drainage for a more thorough cleaning.
Safe, cost-effective storage of pure, potable water is also essential in the craft brewing process. In order to ensure water purity, your storage tank should meet ASTM and NSF-61 standards. High-density crosslinked polyethylene storage tanks deliver safe storage of pure water without leeching concerns.
Storage solutions for ultra high purity CIP chemicals and cleaning agents used to clean the brewing process equipment must resist bacteria growth. Poly Processing's XLPE, OR-1000, and specialty food and beverage grade fittings and gaskets offer a customized clean-in-place storage solution.
Poly vs. Stainless Steel
Finally, why should craft brewers select polyethylene over stainless steel storage tanks? Consider these four factors:
Initial Cost - Polyethylene tanks cost on average one fifth as much as a comparable stainless steel tank.
Mobility - Poly tanks are lighter and easier to move. For small batch, fast-growing craft brewery operations this is a key advantage in responding to market demands.
Delivery Times - A poly tank can be ordered and delivered typically within 3-4 weeks. A stainless steel tank requires 20 weeks or more for delivery.
Scalability - Poly tanks are available in a variety of sizes from 55 gallon to 13,650-gallon tanks. As the craft brewery grows, cost-effective tanks in a variety of sizes are available for fast delivery.
While an investment in stainless steel or copper tanks is required for the brewing process vessels, polyethylene offers flexible, cost-effective storage of dry ingredients, water, and cleaning agents and chemicals for the growing craft brewery industry.
Please contact a storage system specialist for a custom-tailored solution for your craft brewing operation.
Photo Credit: Quinn Dombroski & Shreveport-Bossier Convention via Flickr cc
Tech Talk Podcast Episodes
Tank Configurator

Find the recommended tank and system components for your chemical storage challenge.
Configure a Tank Package