Your Double-Wall Tank Might Be Incomplete Without Double-Wall Piping
Poly Processing
A double-wall pipe is an important safety tool when storing liquids, whether it's chemicals, wastewater, or even liquids used in the food and beverage industry. The vast majority of double-walled piping applications are for wastewater chemicals, contaminated groundwater, and chemical process safety.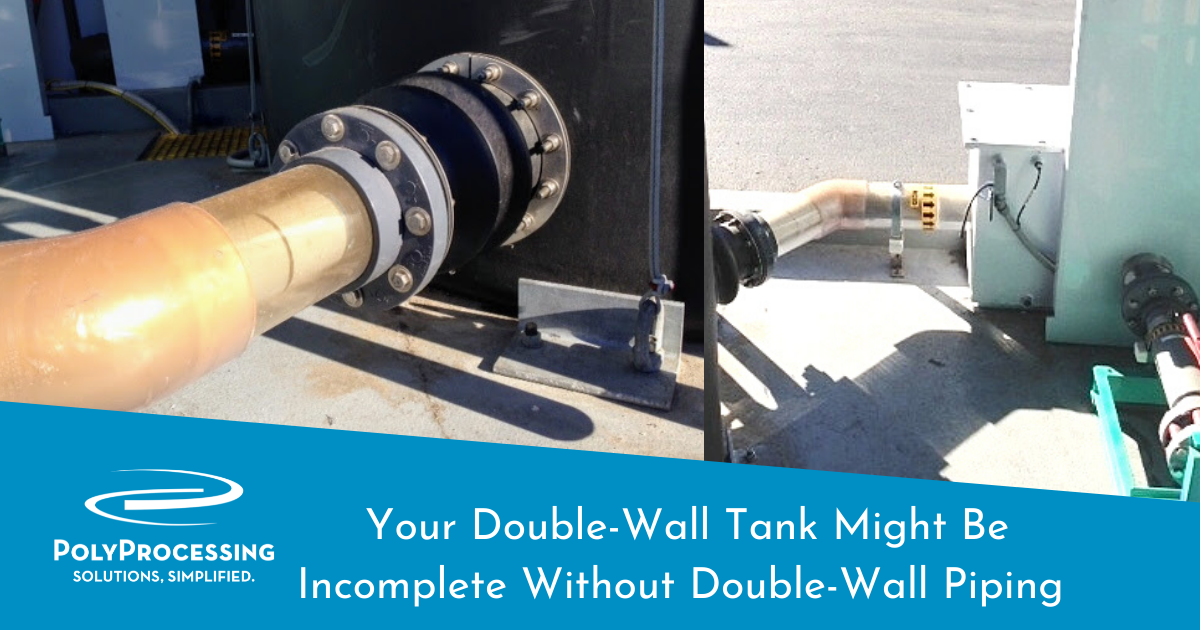 Double-wall piping systems are used in a variety of ways to protect against leaks. When paired with a SAFE-Tank® system, it makes your storage solution even more secure.
What is Double-Wall Piping?
Double-wall piping is a secondary containment piping system — essentially, a pipe within a pipe. The inner pipe is encased in an outer covering with an interstitial space between the two diameters. The inner pipe is the primary, or carrier, pipe and the outer pipe is called the secondary, or containment, pipe.
The Benefits of Double-Wall Piping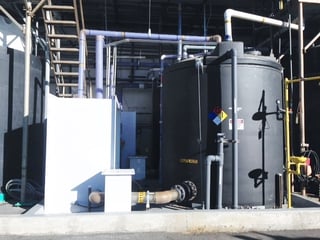 Because of the protection it provides, double-wall containment systems are used for a number of reasons, including cases of certain classes of toxic or corrosive chemicals used in semiconductor fabrication. Double-wall pipes can also be used where a wastewater pipe traverses a drinking water catchment area.
The U.S. Environmental Protection Agency (EPA) mandates that double-wall piping be used for some wastewater treatment plants and at sanitary or hazardous-waste landfills or remediation sites. These regulations impact how certain materials are transported, particularly hazardous materials from tank farms, some food-processing plants, and drainage or runoff from process plants.
A leak detection system can be installed in the containment pipe or pump containment system to indicate if the carrier pipe is leaking. Double-wall pipes should always be hydrostatically tested after installation and before being used at a facility.
The SAFE-Tank
Poly Processing understands the need for full containment and safety for personnel. That's why we developed the SAFE-Tank, a fully-contained, double-wall tank system.
The advantages of the SAFE Tank double-wall tank system are:
It provides a minimum of 110 percent secondary containment.
It will equalize the liquid and allow the chemical to be continually used until it is convenient to repair the tank.
It's ideal for chemicals like sulfuric acid and caustic soda that can have dangerous exothermic reactions to water.
The SAFE-Tank can eliminate the expense and maintenance of secondary concrete containment systems.
It minimizes the system's footprint by providing secondary containment in a more compact way.
It keeps the chemical from getting contaminated in case of a spill.
It allows complete double-wall piping from the tank to a pump skid or pump box using the PPC enhanced Bellows Transition Fitting.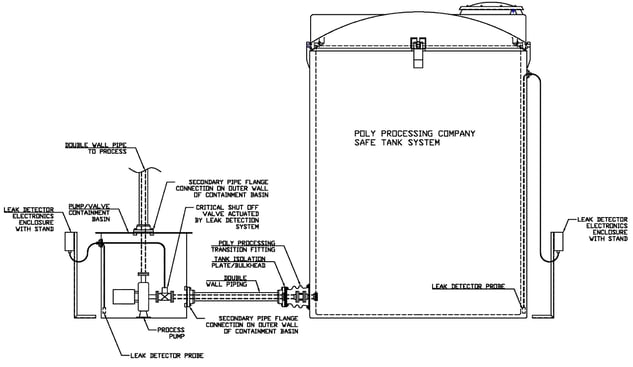 Get Even More Out of Your SAFE-Tank
Adding the enhanced Bellows Transition Fitting will maximize your SAFE-Tank system's performance by allowing you to safely drain the primary tank through single or double-wall piping.
The SAFE-Tank can be double-wall piped from the tank to wherever you want the pipe to terminate using a true double wall transition fitting. This important fitting drains the primary tank through the containment tank while acting as a secondary containment around the fitting. A six-inch flange can be mounted to the outside of the transition fitting and double-wall piping can be run while keeping everything fully contained.
Poly Processing adds an isolation plate with fitting that prevents a leak from the interstitial tank space from running onto the ground or overflowing.
In most cases, a leak detector in the containment tank as well as the pump containment are used to insure there are no issues with the pipe throughout the system. These sensors can actuate shutoff valves when they determine that a leak has occurred. This brings peace of mind and safety to the operator and owner of the tank system or tank farm.
Poly Processing Company also manufactures pump skid containment tanks. These can be used to contain the pump system and ensure complete containment of the chemical system.
Learn more about the benefits of a SAFE-Tank and double-wall piping in our newest guide.
Tech Talk Podcast Episodes
Tank Configurator

Find the recommended tank and system components for your chemical storage challenge.
Configure a Tank Package