How Choosing the Right Chemical Tank Makes Your Job Easier
Poly Processing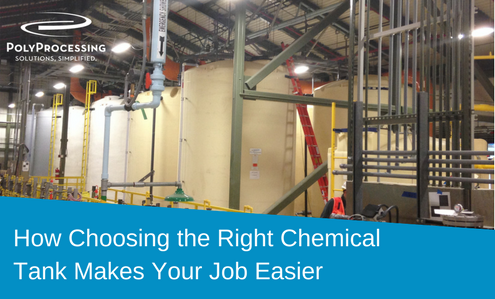 A chemical storage tank is a small portion of the cost of your multi-million-dollar wastewater treatment plant—but if the tank fails, it could shut down your entire facility. Then the wrong chemical storage tank becomes a costly liability that doesn't just add expense, but also potential danger and stress.
Choosing the right chemical tank can make it much easier to run your facility—and give you peace of mind. You just need to have three things in place to make life easier.
The Right Tank for the Right Chemical
Plant operation always runs more smoothly when you have the correct storage tank for your specific chemical application. The right tank will store the chemical without the probability of a failure—which would cause the tank to malfunction and shut down your entire plant operation.
Some wastewater plants try to purchase the same type of tank for all of the chemicals they store.While that makes purchasing simpler, and sometimes more economical, it can create problems down the road. At Poly Processing, we always start with the chemical in mind, because the chemical's properties will determine what kind of storage system you'll need. This helps prevent failure and premature tank replacement, which is much more affordable in the long term.
The Right Installation
When it's time to replace a chemical storage tank, the cost can be very high—especially if you didn't plan for replacement when you first installed the tank. We've seen water treatment plants that have accidentally entombed their tanks inside. They build the building around the tanks, and all of the doors are smaller than the tanks themselves. In these cases, the old tanks can be cut up and taken out, but putting the new tanks in is almost impossible without removing the entire roof. It's a scenario that creates a lot of stress and headaches for operations managers.
When you purchase your chemical storage tank, be sure to consider what kind of installation your site will allow—especially if you're building a new facility or enclosure.
The Right Tank Manufacturer
We work with every customer to get all the information up front so that you get the right product the first time. We walk with you through every aspect of the project to get a detailed understanding of your exact needs for the application.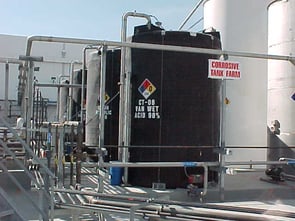 During the process, distributors from our network of 250 salespeople can visit on-site to take care of several details, including:
Taking measurements
Determining the tanks that need to be installed
Making sure we have a complete set of drawings
Confirming all the fittings that are needed
Reaching an agreement on the chemical to be stored
We'll take the time to engage in meaningful discussions with you, to ensure that you're completely comfortable with the final decision.
Poly Processing is always looking for the most cost-effective solution that will last the longest for your particular application.
Custom Solutions
We provide an array of tank options and accessories that will help make your chemical storage system selection go smoothly. Our IMFO®, SAFE-Tank®, and OR-1000® innovations provide the right kind of solutions to fit your particular needs.
If you need an NSF/61 certified tank for your chemical, we'll make sure your tank is pre-approved so that you don't have to get another permit.
And our Field Service team is always available if needed. Reach out to us anytime if you have questions or concerns. If needed, we can provide a field service representative to help with installation and startup. Training can be available for your entire operations team as a part of the installation process.
Choosing the right chemical storage tank makes your life as operations manager easier, and Poly Processing is here to walk with you every step of the way.
Our goal is to ensure you have the right tank for the right chemical. Talk to a chemical storage tank specialist today.
Tech Talk Podcast Episodes
Tank Configurator

Find the recommended tank and system components for your chemical storage challenge.
Configure a Tank Package