How Long Should a Polyethylene Storage Tank Last?
Poly Processing
It's simple common sense. A longer-lasting storage tank is a less expensive storage tank. One question we hear frequently is: "How long should a high-density crosslinked polyethylene tank last?"
Based upon feedback from actual customers over 35 years, high-density crosslinked polyethylene (XLPE) lasts 30-40% longer than linear polyethylene tanks. This translates into ten additional years of useful tank service, with 15-20 years as the typical useful life of high-density crosslinked polyethylene tanks.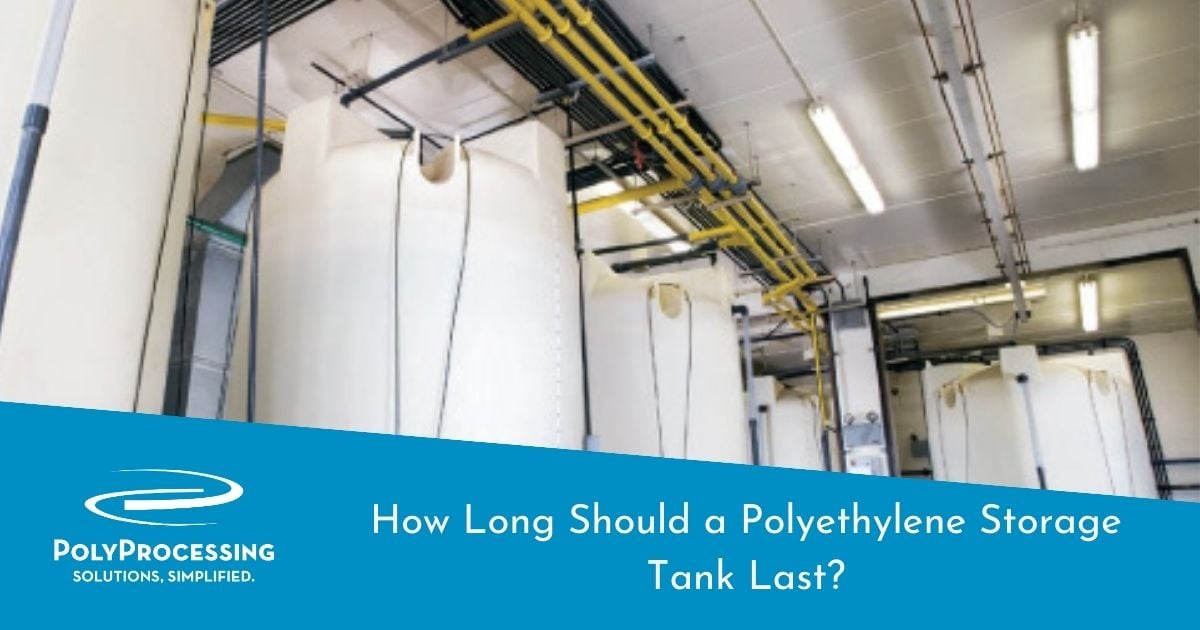 But, your mileage may vary. Let's take a look at the factors that impact the useful life of polyethylene storage tanks.
Chemicals Stored, Chemical Concentrations, and Temperature
The types of chemicals stored, the concentrations of the chemicals, the filling frequency, and the operating temperature within the storage tank all impact the useful life of your polyethylene storage tank.
For example, a high concentration of sulfuric acid, an aggressive stress-cracking agent, will break down a tank quicker than 25% caustic soda. Or, 12% sodium hypochlorite will degrade from UV exposure and elevated temperatures. As the breakdown of the chemical occurs, sludge builds up in the bottom of the tank, resulting in shorter tank life.
There are several Poly Processing innovations available to address these two chemical storage situations. The first of these innovations is the OR-1000™ Anti- Oxidant system, designed to slow the aggressive breakdown from storing sulfuric acid.
Another innovation is the Integrally Molded Flanged Outlet, or IMFO® system. The IMFO® system, with the flange molded into the bottom of the tank, permits full drainage of the tank. Sludge build up from storing chemicals such as sodium hypochlorite can be easily removed, extending the useful life of the poly tank.
Installation and Piping
Improper installation and "hard" piping are the greatest factors reducing useful poly tank life. Polyethylene is inherently able to expand and contract, and can safely store a broad spectrum of chemicals. The proper flexible connections accommodate the tank expansion, leading to extended life of the tank.
Venting
While often overlooked, proper venting plays an important role in extending tank useful life. Since poly tanks are rated at atmospheric pressure, or vacuum, adequate vent size is important to accommodate flow and delivery rates.
Factors to consider in determining proper venting include:
Will the tank be filled pneumatically or mechanically?
Is the tank vented to the outside atmosphere?
Is vent length longer than 3 feet?
Is fume scrubbing used?
Are vent screens that restrict flow in use?
Are emergency venting specs provided from the manufacturer to prevent over pressurization?
Three additional factors that determine storage tank useful life are continuous cycling (filling and discharge), excessive agitation in mixing, and mobile applications.
Please contact a Poly Processing storage system specialist for specific questions regarding polyethylene storage system useful life.
Tech Talk Podcast Episodes
Tank Configurator

Find the recommended tank and system components for your chemical storage challenge.
Configure a Tank Package