Hydrochloric acid (HCl), also known as muriatic acid, is toxic and highly corrosive. As a result, specialized storage solutions are required to ensure the safety of your employees, your equipment, and the environment.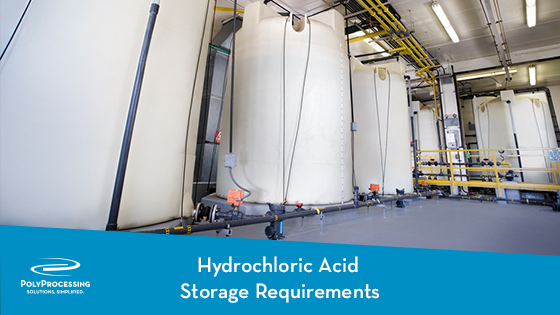 Storing this chemical isn't as simple as storing others. You'll need to design your hydrochloric acid storage system to meet all of its challenges. Let's look at a few of these considerations.
Hydrochloric acid is one of the most common chemicals we deal with, and it presents serious storage challenges:
It has an extremely low pH, making it one of the most corrosive substances in industrial use.

It creates toxic fumes that can deteriorate equipment—and these fumes can be fatal to employees. To control the chemical's fumes, the tank's venting system must be exact.

Fuming can also cause issues with tank maintenance. Avoid entering the tank for cleaning at all costs, and minimize part replacement as much as possible.
Effective Hydrochloric Acid Storage
When you're dealing with HCI, it's vital to ensure that your storage solution meets the correct set of standards for your application. Poly Processing is the only company with a complete chemical tank system certified to NSF/ANSI 61 standards.
Double-walled Storage Tanks
Because HCl is highly corrosive, we recommend specific tank safeguards. In the event of a chemical spill, it's critical to protect your equipment and your employees. A double-wall tank is essential. Our SAFE-Tank® system is a tank-within-a-tank that contains leaks, should the primary chemical storage tank become compromised. This design is ideal for hydrochloric acid and mitigating the risk of damage in the event of a chemical spill.
Reduced Exposure to Metal Fittings
It's also important to avoid exposing HCl to metals, including metallic tank fittings and metal inserts because they can corrode and fail over time. Our IMFO® Tank and Sloped Bottom IMFO Tank seamlessly integrates molded fittings into the tank's polyethylene structure, providing full drainage without chemical exposure to metal fittings or inserts. The IMFO Tank also eliminates the need to enter the tank for cleaning. This is imperative when dealing with such a strongly fuming chemical.
In addition Poly Processing's OR-1000™ system is ideal for HCl storage. It addresses the aggressive oxidizing and corrosive nature of hydrochloric acid.
Reliable Fuming Solutions
While hydrochloric acid itself is extremely hazardous, the chemical also emits fumes that can damage equipment and harm your employees. Never allow the fumes to vent into the atmosphere. Instead, use a chemical fume scrubber to eliminate fuming.
Poly Processing offers manual and automated scrubbers for hydrochloric acid tanks. Automated scrubbers continually monitor the pH of the scrubbing media and automatically change out the media when the pH becomes too low or too high.
It's very important to properly size your fume scrubbers, based on the size of the tank. We've seen companies design their own scrubbing system, and it often backfires. In one case, a facility connected three tanks to one scrubber. The scrubber was large enough to handle one tank, but when all three tanks were filled, they ran into trouble and called on us to design a better system.
We can help you figure out exactly what your scrubber requirements are for your tank size and the chemical you're storing. Contact Poly Processing to design your tank system and fume scrubbers.
Get more details about safely storing hydrochloric acid—