PPC Installation, Operation, and Maintenance Manual: Ensure Tank Longevity
Poly Processing

The most important factor in extending the useful life of a chemical storage tank begins on day one. Installing the chemical storage tank on a smooth, level, stable surface, making sure venting is adequate, and tank fittings are properly attached minimizes potential cracks and leaks that could lead to tank failure.
The Poly Processing Operation and Maintenance Manual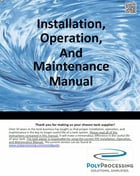 This comprehensive manual was created to provide the steps, instructions, and details required to properly install a tank. Inside this guide you will find:
● Offloading Instructions
● Delivery Checklist and Return of Extra Parts Instructions
● Installation of Fittings, including 3D drawing instructions
● Tank Start-Up Checklist with a cross reference to specific items to test within the guide
● Annual Tank Inspection Checklist and Maintenance
Click the button below to download our Chemical Storage Tank Operation and Maintenance Manual.

Here is a helpful step-by-step instructional videos on the proper installation for specific tank fittings.
Tech Talk Podcast Episodes
Tank Configurator

Find the recommended tank and system components for your chemical storage challenge.
Configure a Tank Package