Introducing the PolyScrub™ Resource Page
Poly Processing
Most chemicals stored in polyethylene tanks require venting. In some instances, the harmful fumes emitted from the chemicals can't be directly released to the atmosphere. Fume scrubbers remove or neutralize the harmful fumes before they exit the system.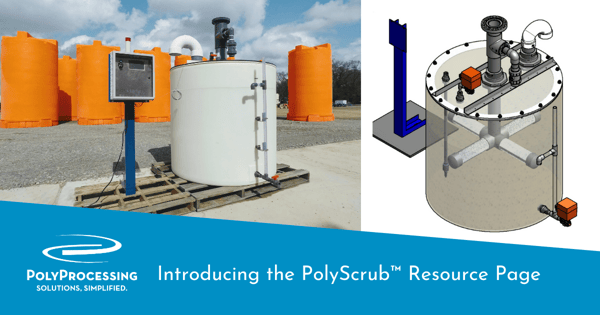 Wet scrubbers function by contacting the target compounds with a scrubbing solution. Often, the solution is simply water, but it can be a reagent for specific chemicals. Some chemicals, such as hydrochloric acid, ammonia, and acetic acid, may require scrubber systems.
Introducing the PolyScrub™ Resource Page
Poly Processing has created a resource page that features the PolyScrub™ Product Guide, which introduces you to fume scrubbers and Poly Processing's high-performing solutions. You'll also get access to the PolyScrub Basic™ video and our new PolyScrub Plus™ video, which introduces our latest and most advanced fume scrubber. The resource page also includes updated product drawings.
About PolyScrub Basic™ and PolyScrub Plus™
Poly Processing offers two scrubbers. PolyScrub Basic™ is an ideal solution for customers looking for a cost-effective fume scrubber. It's a manual scrubber that is engineered to remove harmful fumes from chemical storage tanks during operation and filling. PolyScrub Plus™ includes electronic components to monitor pH, automated alert system, LCD monitor, and a beacon light.
In either case, the PolyScrub™ system is a reliable solution to simplify your chemical storage needs.
The scrubbers are ideal for:
Applications where fumes or odor are problematic
Hydrochloric acid, acetic acid and ammonium-based products to eliminate toxic fumes
Ferric Chloride to address environmental issues
Maintaining cost-effective solutions, compared to other alternatives
Tech Talk Podcast Episodes
Tank Configurator

Find the recommended tank and system components for your chemical storage challenge.
Configure a Tank Package