Preparing for Your Polyethylene Tank Delivery in 8-10 Weeks
Poly Processing
You've done the hard part already. You've talked to a chemical tank expert at Poly Processing, designed your chemical tank system, double-checked that all the fittings you've ordered are compatible with your chemical, and you're ready for your new storage tank system to be delivered.
Now that your order is placed and approved, you're preparing to receive your polyethylene chemical storage tank within eight to ten weeks, there are some steps you need to have in place before your tank arrives. But what should you expect when your polyethylene tank arrives?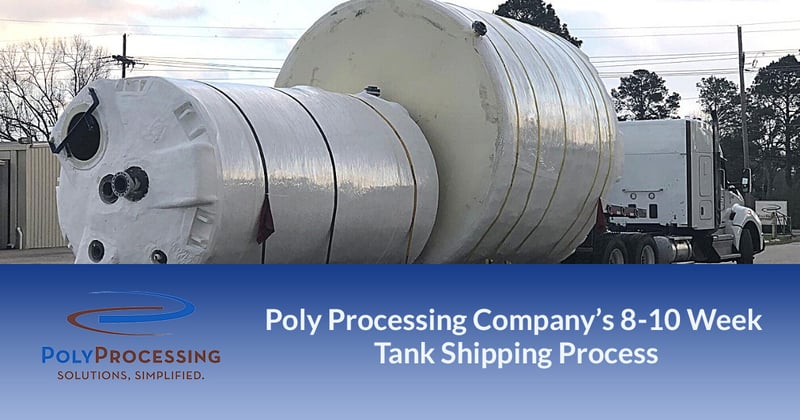 Before Tank Delivery
Once you order your chemical storage tank, and it has been approved and released for production, in most cases you will receive a eight to ten week ship date so that you know when to anticipate delivery. We'll also notify you in advance, so that you can ensure that the equipment you need is onsite. Poly Processing strongly recommends using a licensed and experienced construction rigger to offload and set the tanks safely.
Your polyethylene chemical tank should be kept on a level, clean area. If you are not immediately placing the tank on its permanent place, make sure it will be stored safely. It's common to store tanks for a period of time before installation. Often, loose or boxed parts are misplaced or used for something else on site. We recommend clearly marking any loose or boxed parts for the chemical storage tank only. Store boxes in a safe location where they can be easily found and retrieved.
° Tanks can sit in direct sunlight, but a tarp or cover will help keep them clean
° Store tanks out of traffic areas, including forklift traffic, so they don't get gouged
° IMFO tanks or Sloped Bottom IMFO tanks need a 4 x 4 block under the IMFO (molded outlet) so that it does not rest directly on the ground.
It is also important to make sure you have the proper equipment in place to move and place your tank. Some tanks need a crane or forklift to move. Moving tanks without the proper equipment is not only unsafe, but it can damage the tank, causing an inconvenient replacement period. Poly Processing strongly recommends using a licensed and experienced construction rigger to offload and set the tanks safely.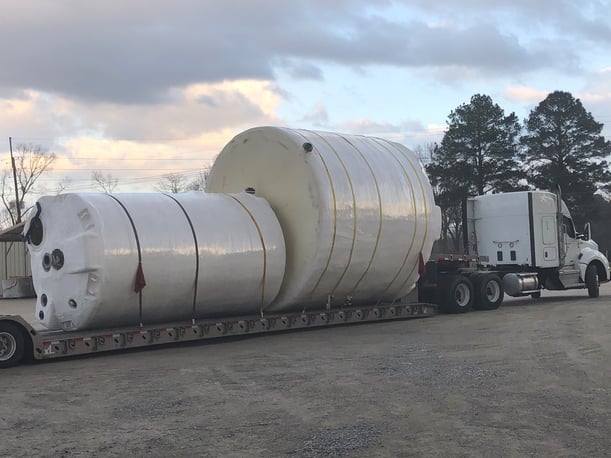 Day of Delivery
When your polyethylene tank arrives onsite, carefully inspect the tank and all accessories that arrive at the time of delivery. Most tanks come wrapped in plastic from top to bottom. Check for damage to the plastic wrap before doing anything else. If the wrap is damaged, there could be a gouge or mark on the tank itself. It's always better to catch any damages right away.
Next, check all the items included on the bill of lading against your original order. If you're missing a piece, notify your distributor or Poly Processing immediately.
Anything that isn't part of the tank itself is shipped individually, except for bolted fittings and some lids. SAFE-Surge lids, pipes, flexible connectors, flange adapters, fill lines, u-vents, and other accessories and fittings will be shipped loose or boxed. These accessories make the tank larger, and shipping wider loads presents a more challenging and expensive problem. Shipping them individually also protects the accessories themselves.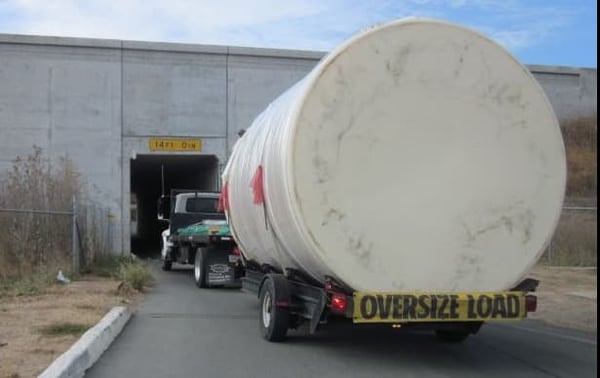 While instructions are included on the loose parts and within the comprehensive installation guide, you may find it helpful to review some of our installation videos for tanks and accessories. Our installation guide walks you through steps to receive the tank, and also provides a startup checklist.
After Poly Processing Tank Delivery
Poly Processing is committed to providing safe, efficient chemical storage solutions. That means that after your tank is in place and installed, we provide the support you need via our technical documents and customer service offerings. We are here to help if you have any questions or concerns about your chemical storage tank, at any time.
If you have questions about your polyethylene chemical storage tank delivery, please contact us at 866-765-9957.
Tech Talk Podcast Episodes
Tank Configurator

Find the recommended tank and system components for your chemical storage challenge.
Configure a Tank Package