Are You Using the Right Storage System for Hazardous Leachate and Condensate?
Leachate and condensate from landfills typically contain hazardous materials — either from the waste itself or as a result of chemical compounds breaking down. Landfill leachate is liquid that comes in contact with or is released from waste. Condensate is the liquid generated as a result of the gas collection and recovery process. In both cases, the liquid can be extremely hazardous and can create environmental disasters that take decades to recover from.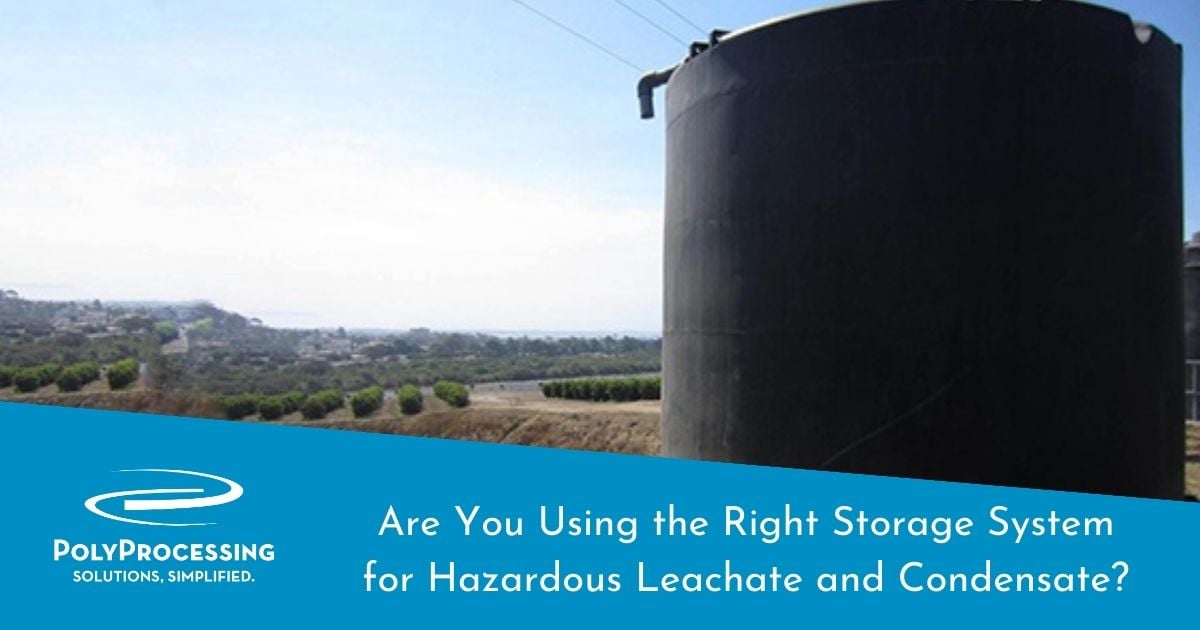 Cleaning up contaminated ground or surface water is extremely expensive, and it presents a substantial physical risk to the landfill operator. A safer and less expensive solution is to contain the contamination at the waste landfill before it ever touches the ground.
A landfill liner collects the waste, which is then drained or piped into leachate storage tanks. The tanks are discharged to municipal waste treatment plants, trucked off in tanker trucks, or treated on-site.
Polyethylene Tanks Provide Safe and Effective Leachate Storage
Poly Processing Company's cross-linked polyethylene tanks are engineered and designed to safely store leachate and condensate under almost any circumstance:
Our chemical storage tanks have been installed in common landfills and hazardous waste landfills for over 45 years, and our tanks have never had any issues with chemical compatibility, leakage, or premature failure.
Poly Processing tanks are chemically compatible with almost every dissolved and solid material found in landfill leachate and condensate — including acids, aldehydes, ammonia, pathogens, and heavy metals.
Our cross-linked polyethylene (XLPE) tanks have 20 times the environmental stress crack resistance of high-density linear polyethylene tanks. You'll get a significantly longer useful life from XLPE tanks, and greater peace of mind.
Unlike fiberglass and steel tanks, Poly Processing tanks are manufactured with seamless construction, which eliminates the potential for chemical attack points and bad welds or joints.
Our cross-linked polyethylene tanks are unaffected by the unpredictable composition of leachate and condensate, and they rarely need maintenance. Leachate and condensate will severely damage epoxy, concrete, and powder coated tanks, which leads to costly maintenance.
Leachate Storage System Made for Storing Hazardous Waste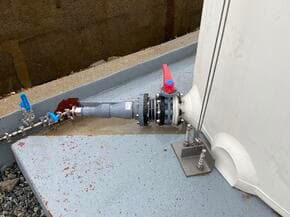 Surprisingly, many operations don't consider how they will fully drain their tanks in a storage area before they purchase them. It isn't until afterwards that they realize they need to find a full-drain solution.
There are safe and effective methods for fully draining your landfill leachate tanks, and there are methods that can be hazardous or insufficient for the specific application. In the case of hazardous leachate and condensate, you can't afford to figure it out later.
Traditional tank maintenance can be a challenge with many chemicals, so Poly Processing has developed a unique sloped bottom tank system that greatly minimizes the hazards associated with traditional vertical tank maintenance.
The Sloped Bottom IMFO tank system is ideal for hazardous chemical storage such as leachate and condensate storage for several reasons:
The flange is at the bottom sidewall of the tank, below the knuckle radius, which eliminates the need to enter the tank for cleaning.
One-piece construction enhances long-term performance of the tank since it doesn't compromise the tank hoop's integrity or structural design.
Because the flange face of the IMFO is external, confined space entry is not necessary to maintain the fitting.
The Sloped Bottom IMFO allows Leachate and Condensate sediment to discharge completely, as well as heavier materials such as dirt and debris.
Poly Processing Company can supply a PolyBase system underneath the tank if you don't have a concrete base.
Poly Processing's Sloped Bottom IMFO tank is available in sizes from 3950 gallons to 15,000 gallons.
By providing the right kind of hazardous material storage tank for leachate and condensate, you can confidently maintain the safety of the environment and your personnel — while also reducing your costs.
Discover more about our Leachate and Condensate chemical storage systems. Download our Leachate and Condensate guide.
Tech Talk Podcast Episodes
Tank Configurator

Find the recommended tank and system components for your chemical storage challenge.
Configure a Tank Package