Understanding the Barium Removal Process
Poly Processing

Barium is a chemical found at relatively low levels in nature, but if it seeps into the drinking water, it can cause a variety of potential health problems. Due to these significant health risks, the Environmental Protection Agency (EPA) has ordered all water treatment plants in areas with higher levels of barium to remove its contents from the water prior to releasing it to the public for consumption.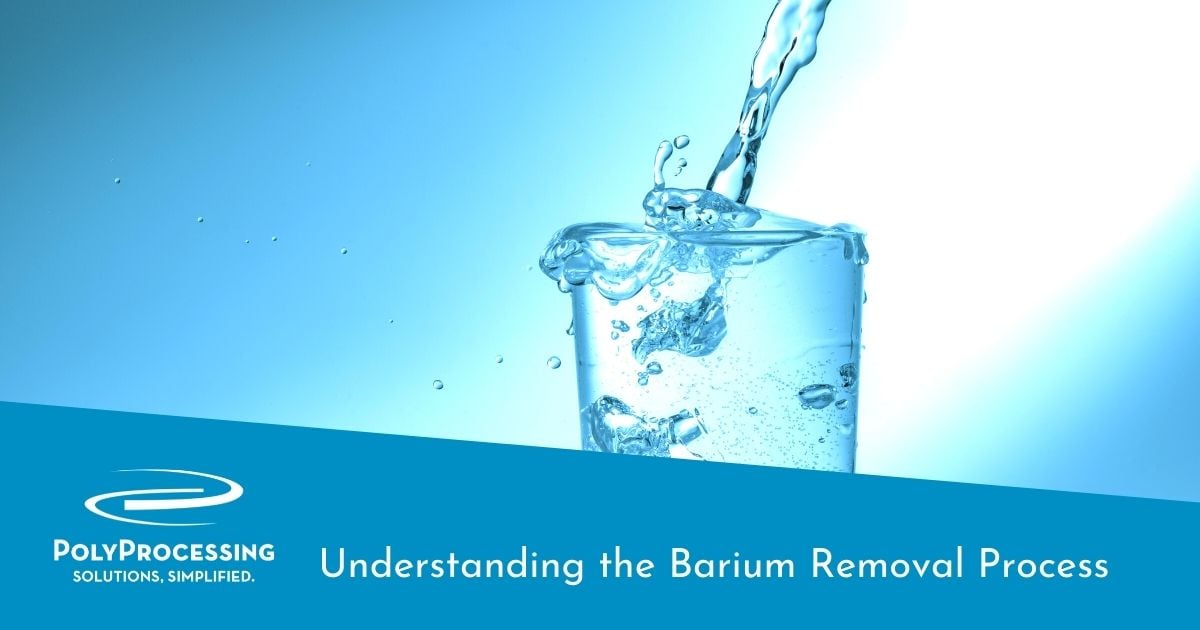 There are three major ways that barium makes its way into water sources:
1. Discharge of drilling waste
2. Discharge from metal refineries
3. Erosion of natural deposits
Over time, barium can build up in the muscles of the cardiovascular system, which can raise blood pressure and create heart palpitations. This chemical is especially dangerous for those already suffering from major heart conditions.
How Does the Barium Removal Process Work?
Several common wastewater treatment processes are effective at removing barium from the water, including:
Ion Exchange – Barium, magnesium and calcium are exchanged with the ions in a resin. The barium is then removed through a brine wash during the regeneration of the resin.
Lime Softening – Both barium and calcium are flushed out of the water during the softening process.
Reverse Osmosis – Barium and other soluble minerals are removed by pushing the water through a semipermeable membrane.
Electrodialysis – Electrical current removes salt and barium from the water.
There are several other patented wastewater treatment options that effectively remove barium, but most of these still require the use of chemicals.
Trust Poly Processing to Protect Your Barium Removal Chemicals
Poly Processing can help by providing high-quality brine storage tanks and brine-making tanks that are used in the ion exchange barium removal process. Poly Processing works with companies that deliver a turnkey brine maker or saturator using PPC tanks as an integral part of the system.
In addition, Poly Processing manufactures a large variety of premium storage tanks that are designed for use with specific chemicals, including hydrochloric acid, sulfuric acid and caustic soda, which are the three most commonly used chemicals in the reverse osmosis barium removal process.
These are highly corrosive chemicals that can damage equipment, harm your personnel, and threaten the environment. Safe containment demands a storage solution you can depend on for a long time.
Poly Processing's cross-linked polyethylene chemical storage systems provide the peace of mind and the cost effectiveness that other chemical storage tanks can't deliver. Our innovative solutions are specifically designed to handle the harshest chemicals and give the end user longer useful life.
Cross-linked polyethylene tanks are a great solution for storing barium removal chemicals. The molecular bonding of cross-linked polyethylene (XLPE) and tank wall thickness are particularly important in the bottom third of the tank, where high levels of load are concentrated when storing sulfuric acid.
Because barium removal chemicals are highly corrosive, we recommend specific tank safeguards. In the event of a chemical spill, secondary containment is critical for preventing damage to equipment or putting employees at risk. Poly Processing's SAFE-Tank® system is a double-wall tank that contains leaks, should the primary chemical storage tank become compromised.
It's also important to consider the tank fittings. Poly Processing's Integrally Molded Flanged Outlet (IMFO®) Tank is a great choice, because the flange is actually a molded part of the tank itself, rather than an insert that could leak or fail. The IMFO fitting also ensures long-term performance of the overall system, because it eliminates the need to drill into the tank's sidewall to install a mechanical fitting. The IMFO Tank eliminates the need to enter the tank for cleaning, which is essential when you're dealing with a strongly fuming chemical such as hydrochloric acid.
In addition, Poly Processing's OR-1000™ system is specifically designed to address the aggressive oxidation effects of sodium hypochlorite, sulfuric acid, and hydrochloric acid by adding an additional chemical barrier system between XLPE and the chemical. It is designed to maximize the useful life of storage tanks in oxidizing environments. The OR-1000 system consists of engineered resins for these specific applications. This system increases the life of a crosslinked polyethylene tank giving the end user a greater cost-effective solution.
OR-1000's engineered inner surface is made of polyethylene, specifically formulated to resist oxidation. Its outer surface is made of XLPE for superior strength. The 2 surfaces are molecularly bound together during the roto-molding process creating a truly seamless bond between the XLPE and OR-1000 system.
Poly Processing tanks are certified to NSF/ANSI-61 Standards. Poly Processing is the only company with a complete chemical storage tank system certified to NSF/ANSI Standard 61.
When barium removal is an issue for your water treatment plant, Poly Processing has the storage tanks and tank configurations you require that can be delivered to your location usually within 5-8 weeks after order approval.
Tech Talk Podcast Episodes
Tank Configurator

Find the recommended tank and system components for your chemical storage challenge.
Configure a Tank Package