Transition Fittings: Ensuring Secondary Containment
Poly Processing
Many people think that a double-walled storage tank provides a total solution to secondary containment within a chemical tank storage system. And, for the most part, that is true. A tank-within-a-tank, made from high-density cross-linked polyethylene can provide 110% containment.
But, what about the fitting on the tank? Is that also contained? If a chemical storage tank system is configured the right way with a transition fitting, your tank is truly protected, and its integrity maintained, but missing the proper fitting can be an especially costly mistake.
Why Secondary
A nested tank system provides a tank-within-a-tank to protect against exposure and dangerous chemical reactions. Due to the weight and hydrostatic pressure within the tank, tanks storing chemicals need to be able to expand and contract freely. In a double-walled tank, this is completely feasible, assuming the tanks are separate and the outer wall provides adequate breathing room for the inner tank containing chemical, while also providing secondary true fitting containment in the event of a chemical leak or spill anywhere within the tank system itself.
If a leak does occur, it occurs on the inner tank wall, and the chemical is contained by the outer tank and equalizes to still come out the outlet. This means that a leak does not have to immediately shutdown operations.
This ensures that your plant has no immediate downtime and most importantly, it minimizes danger to your employees. The polyethylene chemical storage tank can still be used until it is convenient to empty and repair the inner tank. In this way, double-walled tanks provide a secure storage solution and peace of mind.
When is Secondary Containment Not Secondary Containment?
Like most chemical storage tanks, a double-walled tank often has a pump outlet or drain on the lower portion of the tank wall. This is the part of the tank that experiences the highest pressure from cycling the chemical in and out of the tank. A trustworthy transition fitting is needed for this location to provide the proper amount of protection while maintaining a flooded suction for the pump.
This outlet becomes the most vulnerable and most commonly used component for wear, but with the way some tank manufacturers address the need, they end up compromising the containment itself. A cost savings technique employed by a few is to use a rubberized doughnut between the inner and outer tank, which hinges the two tanks together.
It not only reduces flex which the tank needs but greatly compromises true secondary containment. The pressure that the bottom of the tank experiences in combination with an inflexible fitting creates a hinge point, which commonly fails from wear and leads to compete siphoning of the tank to the outside ground.
This creates a dangerous environment, which can result in a workplace emergency. Needless to say, chemical will have to be replaced, downtime will occur, and cleanup scheduled, while dealing with many safety issues. Exactly the concerns a safe tank was chosen to avoid, and all because the bottom fitting was carelessly designed.
The Bellows Transition Fitting
To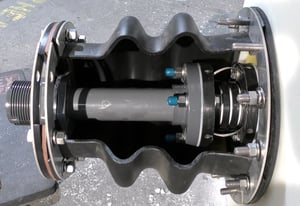 minimize these threats, Poly Processing offers the bellows transition fitting - with a flexible expansion joint that protects one tank wall from the other against hinge and flex lock. A B.O.S.S. fitting® (Bolted One-Piece Sure Seal) is attached to the inner tank, while a flexible expansion joint allows the inner tank to expand and contract.
The piping is fully contained by this fitting, meaning that there is no hinge point, and the fitting is able to fully contain any leaks that may take place. The bellows transition fitting solves the problems presented by any sleeve-fitting system available. When storing chemicals, you can never be too careful.
As with any tank, fitting, or accessory, the first thing we ask a client is "what chemical or solution are you storing?" The chemical in question is the deciding factor for any and all components of a tank system. But, ask yourself, if you have a chemical storage need that requires the 110% secondary containment offered by the SAFE-Tank® system, Isn't it of utmost importance to employ a flexible transition fitting to maintain that protection? For safety, convenience, and peace of mind, we say "Absolutely!".
Learn more about bellows transition fittings and our SAFE-Tank System by downloading our guide today.
Tech Talk Podcast Episodes
Tank Configurator

Find the recommended tank and system components for your chemical storage challenge.
Configure a Tank Package