Breaking Down the Poly Processing Serial and Stock Numbers
Poly Processing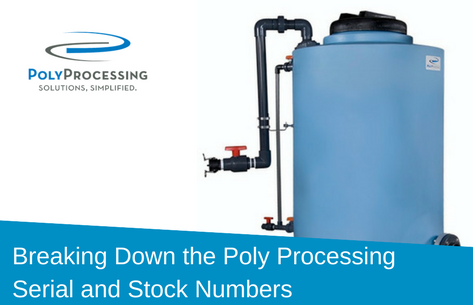 Did you know that every chemical storage tank has a stock number and a serial number? One will help you order your tank, and one will help you identify the tank you've purchased. It can be easy to get confused about which number you need to know, what it tells you, and when you need it. But at Poly Processing, we want you to be well-educated and fully informed about our products, and your individual tanks. So here's a quick breakdown on storage tank serial numbers and stock numbers.
Storage Tank Serial Numbers
Your chemical storage tank's 7-digit serial number can be valuable to you any time you need to find information about your tank. When you contact us with your serial number, we can look up all of the important information about the construction of the tank, such as:
Tank color
Date of manufacture
System components of your chemical storage
If we need to look up information about your tank, the letter and number serial number lets us go back several years. This information can be helpful to refer to if there is an issue with the tank, if you need to replace a tank, or if you want to order an identical tank.
Decoding Your Tank's Serial Number
Your chemical storage tank's serial number is molded on the side wall of the tank normally just below the manway. It consists of the following code:
Letter—Manufacturing facility (C = California, L = Louisiana, V = Virginia)
2-digit number—Year of manufacture (e.g., 17 = 2017)
5-digit number—Tank number at the manufacturing site.
So, if your tank's serial number is C17-02682, you have the 2,682nd tank that was manufactured in California in 2017.

Storage Tank Stock Numbers
A storage tank stock number is the catalog number that designates the type of product. While a serial number is a unique ID number, the stock number is used to order a certain type of tank. When you order a tank, the stock number determines exactly what kind of tank you want.
You'll find the eight-digit stock number tied to the type of tank that you need in the Poly Processing Product Catalog as well as at www.polyprocessing.com. Here is how stock numbers break down:

1-digit number—Manufacturing location (see below)
2-digit number—Tank type (see below)
5-digit number—Tank size (in gallons)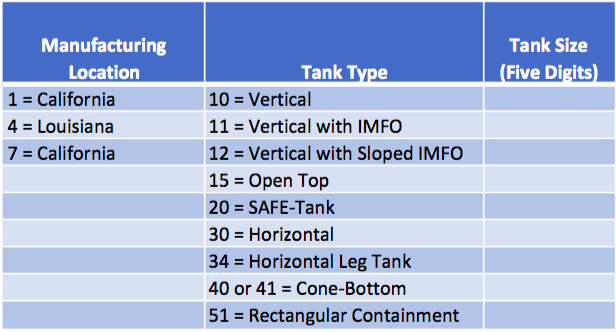 Examples of stock numbers
11012150 = 12,150 gallon Vertical tank manufactured in California
41106100 = 6,100 gallon IMFO tank manufactured in Louisiana
72004400 = 4,400 gallon SAFE-Tank manufactured in Virginia
Have the stock number or serial number ready whenever you need to contact us about a tank. You'll find all of our stock numbers in the Poly Processing Product Catalog.
Ready to place an order for a new chemical storage tank? Request a quote today.
Tech Talk Podcast Episodes
Tank Configurator

Find the recommended tank and system components for your chemical storage challenge.
Configure a Tank Package