Brine Storage Tank Solutions: Material and Manufacturing
Poly Processing

Sodium chloride brine is used in a variety of industrial applications. Auto manufacturers, system OEM's, food processors, municipalities, refineries, hotels, hospitals, commercial laundries, textile dyeing houses, and chemical plants all use brine in their operations.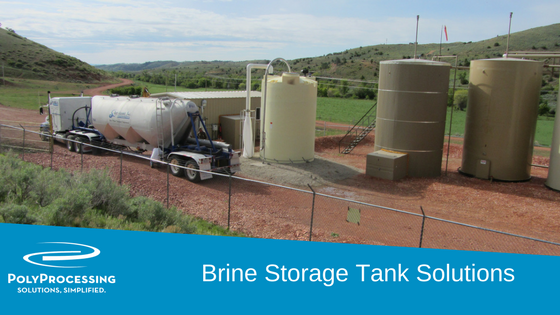 Proper production and storage of brine requires a unique combination of features and design.
Let's explore the storage challenges of brine, and why cross-linked polyethylene offers an ideal storage option.
Brine Production Challenges
Bulk salt delivery, brine make-up, and brine storage present several equipment challenges. A highly efficient tank design and components are required to prevent problems inherent with these demands.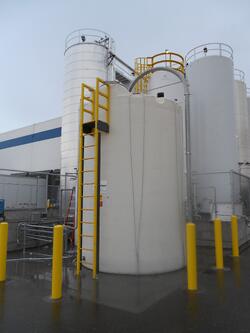 Offloading of salt from the delivery truck – At the start of the brine production process, salt is pneumatically delivered into the brine tank. During the delivery process, salt dust is inevitably created. Salt dust can be extremely damaging to surrounding equipment and materials. In order to mitigate exposure to salt dust, which can cause rust and corrosion, a containment dust bag is required. Proper venting is also necessary in order to contain the dust while allowing the tank to breathe.
Brine Collection - Maintaining the proper water level within the tank to deliver the required brine solution is critical. An electronic sensor and an automated water inlet valve are necessary for the monitoring of water, salt, and brine levels.
Access for tank cleaning - Some salts are very dirty and will necessitate tank cleaning. Therefore, easy access to the tank is needed. A side manway provides ease of access to clean the tank.
Freeze Protection - A Heat-Loss Prevention System of heating pads, insulation, and a controller maintains the ambient temperature of the brine solution in cooler climates.
Why Cross-Linked Polyethylene for Brine Storage?
Fiberglass reinforced plastic (FRP) and cross-linked polyethylene (XLPE) are the storage tank material options for brine storage. In comparing these two materials, cross-linked polyethylene offers the following advantages over fiberglass:
Faster turnaround time - Lead times for a poly tank are 4-5 weeks versus 8-10 weeks for a fiberglass tank.
Superior warranty - Fiberglass offers a 1-year warranty; cross-linked polyethylene offers a 5-year warranty.
More robust product - Crosslinked Polyethylene is less prone to damage and will have a greater useful life.
More cost effective - In general, a XLPE tank will be 20-30% less than a fiberglass tank.
Read More: Polyethylene vs. Fiberglass Reinforced Plastic (FRP)
Combined Expertise for a Specialized Solution
Storing brine requires special solutions and expertise. Poly Processing is a proud certified manufacturing partner for BrineMaker, the leaders in brine making and brine storage. This partnership pairing BrineMaker's brine expertise with Poly Processing's polyethylene manufacturing expertise delivers a high value cross-linked polyethylene brine storage option.
Have questions about Brine tanks or polyethylene storage tanks? Contact a chemical storage tank specialist today.
Tech Talk Podcast Episodes
Tank Configurator

Find the recommended tank and system components for your chemical storage challenge.
Configure a Tank Package