Crosslinked Polyethylene Storage Solutions For Your Industry - Part 2
Poly Processing
Poly Processing tanks are used worldwide for water and wastewater treatment applications, but our tanks are also found in dozens of industries as well. We're able to work with and provide solutions to a wide variety of businesses and organizations that use tanks to store chemicals and other materials.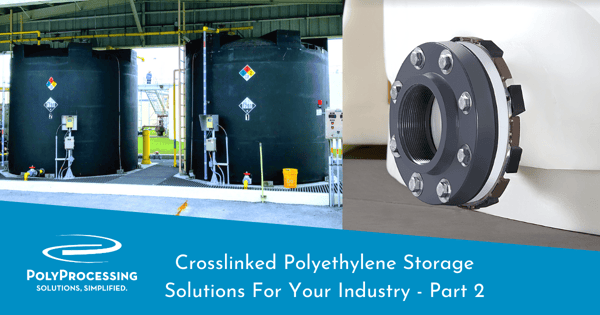 This is the second in a series of articles over the next several months that will feature the markets we serve. In this article, we highlight a few of the storage solutions we provide for the following industries:
Dairy

Diesel Exhaust Fluid (DEF)

De-icing and Anti-icing Fluid

Disinfection
Dairy Industry
Poly Processing chemical storage tanks are often used for storing chemicals and other products in the dairy industry.
Whey storage and processing — Whey storage requires tanks that are sufficiently resistant to bacteria and capable of full tank drainage, which allows you to get more out of the tanks that you use for storing food ingredients. Poly Processing's Vertical IMFO™ Tank and Sloped Bottom IMFO™ Tank are excellent options. These tank systems provide a complete full drain solution as well as greater useful life than other me-too products on the market.

Water treatment — Dairy production involves several processes that generate wastewater. This wastewater is treated primarily by adjusting pH levels with acid and base chemicals. The chemicals used to treat dairy wastewater must be handled properly so that the wastewater can be efficiently reused for other processes.

Brine storage and CIP tanks — Poly Processing tanks are especially well-suited for storing brine solutions and clean-in-place chemicals. They are also the tank system of choice for many brine saturator or salt saturator applications.
Diesel Exhaust Fluid (DEF)
DEF solution is a clear, non-toxic chemical. It's safe to handle, but it can corrode certain metals, so it is important to design a bulk storage system that can give you top performance for many years. Since DEF is a high-purity chemical, it should receive the same level of storage treatment as other high purity chemicals.

DEF should be stored at an optimal temperature to reduce the chance of separation and settling. In some cases, we recommend adding heat pads and insulation to the tanks to maintain the proper temperature.

To maintain the purity of DEF, proper and complete draining is required to remove any sediments and impurities. Without complete draining, impurities will eventually build up and can contaminate the entire supply of DEF solution.

Poly Processing's Sloped Bottom IMFO® system is ideal, because it provides a true full drain, without requiring additional maintenance. With the IMFO system, the flange is molded into the tank during manufacturing, not post-production as an insert. The one-piece construction enables the flange to be placed at the very bottom of the tank's sidewall, below the knuckle radius—not two inches above it.
De-Icing & Anti-Icing Fluid
Properly storing deicing fluid is critical in order to protect the environment and to maintain chemical integrity. Poly Processing's SAFE-Tanks® are engineered to safely store de-icing fluids, including:
Brine

Magnesium chloride (also called MAG)

Ethylene glycol

Propylene glycol

The SAFE-Tank system is a double-wall containment and storage system built from cross-linked polyethylene. The "tank-within-a-tank" configuration means there is no need to designate a large area for a concrete containment structure. In the rare case of a spill, the risk of damage or lost product is mitigated with very little downtime.

The SAFE-Tank system allows de-icing chemicals to be double-wall piped from the tank using the industry's only fully contained double-wall tank transition fitting. This important fitting drains the primary tank through the containment tank while acting as a secondary containment around the fitting.

If containment isn't an issue, Poly Processing recommends the IMFO system for complete drainage.
Disinfection
Peracetic acid (or PAA) is a flexible use solution that is often used for disinfecting. When storing peracetic acid, it's important to use a proper storage method to avoid leakage or other storage failures. PAA can irritate the skin and eyes, and long-term exposure can damage the lungs. Those who work near improperly stored peracetic acid may also develop occupational asthma.

We recommend storing this powerful oxidizer in a high-density cross-linked polyethylene (XLPE) tank with an OR-1000™ system. The tank is built for peracetic acid from the ground up giving you longer useful life in an oxidizing environment.


Peracetic acid is an NSF/ANSI-61 approved chemical that can be stored in a Poly Processing tank at 30% or less concentration. The tank system is a XLPE tank with OR-1000 system, B.O.S.S. or 316 SS fittings, EPDM gaskets, and 316 SS bolts.
Tech Talk Podcast Episodes
Tank Configurator

Find the recommended tank and system components for your chemical storage challenge.
Configure a Tank Package