There are many things to consider when choosing a chemical storage tank system. By the time the right tank and accessories have been identified, it's time to consider the freight and logistics plan to get the equipment to you quickly, in a cost-effective manner, with little hassle or headache.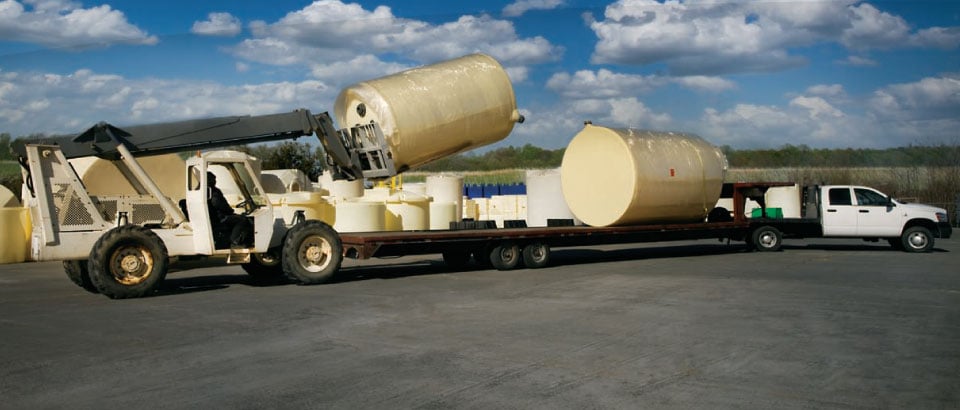 Freight and Logistics Considerations
When someone is looking for a chemical storage solution, it is first necessary to find quality and value. Freight service is often part of that. Finding the right tank from the right provider who is willing to work with you on shipping is the ultimate goal.
The transport of large items, like chemical storage tanks, can involve state restrictions and requirements, weight maximums, and a host of other considerations that, if you had to worry about all of them, would make the purchase of a chemical storage system extremely stressful. The team at Poly Processing goes above and beyond to make the shipping and transport process seamless, so that you go from ordering to installing your tank system without having to worry about what's in between.
Cost Savings Opportunities
Also, working closely with a shipping manager to combine multiple tank orders into one shipment is another way to significantly reduce the cost per tank. In other words, a shipping manager can bundle your shipment with another order that is geographically close to you, saving you a lot of money with shipping but without sacrificing the quality of tank you purchase.
Other Considerations
Another advantage to working with a company able to give recommendations lies in circumstances when multiple tanks are being delivered from multiple locations. Because some chemical storage tanks are very large, receivers have to rent cranes to place tanks safely. A partner at a chemical storage tank company like Poly Processing can help coordinate shipments, and may even be able to pick up parts of the delivery on the way to the installation location. There are distinct advantages to having a whole team working with the purchaser of the tank or tanks to minimize the cost of freight and equipment rental. The right chemical storage tank provider will work to solve customer problems instead of creating new ones by forcing clients to accept tanks before they are ready, charging storage fees, or tying up an order with complicated red tape when the client chooses their own freight company.
Talk to a chemical storage expert today to find the right chemical storage tank for your application. Distance is not a problem.