3 Manufacturing Sites for Cost Effective Shipping and Delivery
Poly Processing
Poly Processing has three strategically located manufacturing plants, headquartered in Monroe, Louisiana — with plants in Winchester, Virginia and French Camp, California as well. These locations give us the ability to easily transfer inventory and ship tanks to our customers throughout the United States.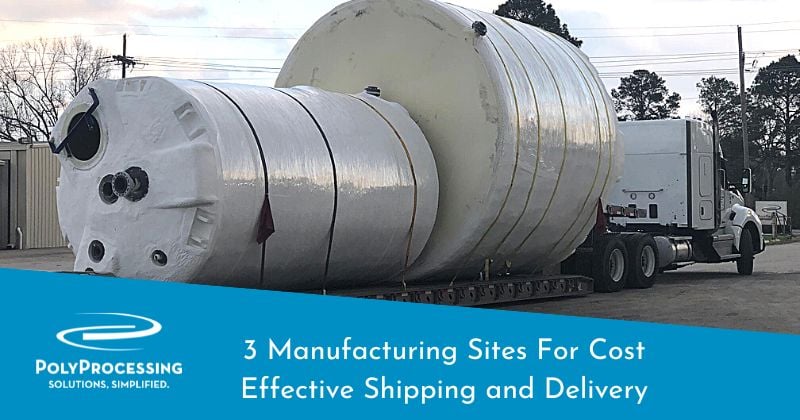 Freight and Logistics Considerations
When you purchase a chemical storage solution, it's important to find quality and value. Freight service is often part of that. You need to order the right tank from the right provider who is willing to work with you on shipping.
Transporting chemical storage tanks can involve state restrictions and permit requirements, dimension maximums, and a host of other considerations. If you had to worry about all of them, it would make purchasing a chemical storage system extremely stressful.
The team at Poly Processing goes above and beyond to make the shipping and transport process seamless, so that you go from ordering to installing your tank system without worrying about what happens in between.
If logistics isn't in your wheelhouse, we can set up the freight for you as a convenience. In some cases, if you can wait a few weeks after the product is ready to ship, we may be able to get you a better freight rate. Poly Processing will give you an estimated freight rate when the project is quoted — however, because of market volatility, that rate may change when the product ships. We don't have control over shipping rates and can't guarantee freight costs.
Poly Processing is happy to load our customers trucks as well. If you have a truck or would rather setup your own freight carrier, we can work with you to make sure the truck you have ordered will work for your order and that the tanks are loaded safely at our facilities.
We'll work with you to identify our best manufacturing location for your needs, to help reduce costs and deliver your tank quickly.
Your Tank Delivery In 8-12 Weeks
We know that delivery times are critical to our customers. That's why we work diligently to ship every approved order within 8-12 weeks. Most FRP tank manufacturers and poly tank manufacturers are giving their customers a 20-30 week plus shipping window based on lack of raw material sourcing, Covid-19, etc. At Poly Processing Company we deliver your product in one third of that time.
Before We Load a Chemical Tank on a Truck
After a chemical storage tank is finished cooling, it is cleaned. We use a pressure washer to clean both the inside and outside of each tank. This ensures that no dirt or debris from the manufacturing process is left behind.
When we have a clean tank, our quality assurance team inspects the tank, ensuring it will meet all standards and necessary certifications. Once a tank has successfully passed inspection it is plastic wrapped. All tanks traveling over 50 miles from one of our three manufacturing plants are wrapped five to six times with 80 Gauge or .80 Mil thick plastic in order to keep it clean and to protect it from the elements during shipping and off-loading.
While the tank itself and any molded-in components, such as the IMFO fitting, are wrapped together, additional parts or accessories are either boxed separately or sent along with the tank. You will be able to see each component of your shipped order on your Bill of Lading.
Once the tank is wrapped and secure, we use specially designed forklifts and front loaders to carefully load the tanks onto the trucks that will deliver your chemical storage system to you.
What You Can Do to Prepare for Your Chemical Tank
While we do all of this, there are a few things you will want to do at the installation site in order to further protect your investment. We'll notify you 24-48 hours in advance, so that you can ensure any equipment you need will be on site, and all final decisions regarding the tank have been made. Be sure to review our Start Up Checklist before installation, and refer to our Installation Guide frequently.
Before we send your chemical storage tank out, we first photograph each truck load. We do this to document the quality of the load before it leaves our facility. This is another added safeguard to protect your investment.
Trusted, consistent, and expeditious, Poly Processing's rotationally molded crosslinked tanks are by far the toughest polyethylene tanks offered to the chemical market. With our 8-12 week delivery window, we strive to deliver peace of mind and an ease of business to each and every customer.
Tech Talk Podcast Episodes
Tank Configurator

Find the recommended tank and system components for your chemical storage challenge.
Configure a Tank Package