Protecting Your Chemical Storage Tank During Shipping
Poly Processing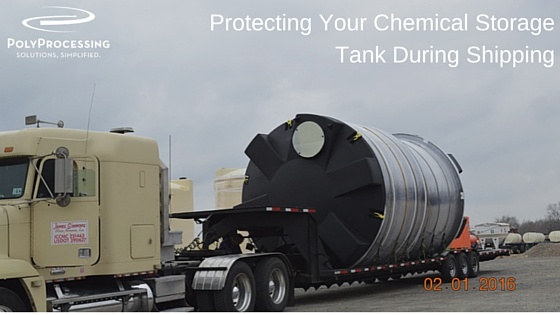 There are several measures taken during the shipping and delivery process in order to protect your investment in a chemical storage tank and its accessories. Poly Processing tanks ship directly from one of our three strategically located plant sites: Louisiana, California, or Virginia.
No matter if your tank is traveling a short distance down the road or overseas, all tanks are washed, cleaned, protective-wrapped, and inspected prior to being shipped. Common carrier shipments are wrapped and palletized. Let's take a look at our common practices when shipping a tank, and what you can do to increase your chemical storage tank's longevity after it arrives.
Precautions When Shipping Chemical Storage Tanks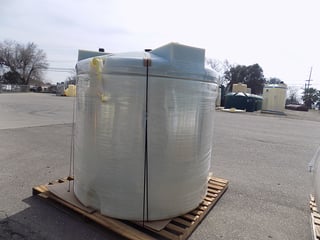 Before a chemical storage tank is shipped, the tank is wrapped five to six times with 80 Gauge or .80 Mil thick plastic in order to keep it clean and to protect it from the elements. Manways are covered during shipping and generally sent separately. For extra security, fitting and thread protectors are added and all loose parts are boxed and labeled. Our shipping director and team make all the arrangements for wide loads, escort-permitted loads, flatbeds, vans, less-than-truckloads, common carriers, and hot shots when Poly Processing Company is asked to setup shipping.
In an effort to ensure your chemical storage tank system arrives together and intact, we've developed certain best practices and innovations for our shipping practices. These include:
Creating a procedure for palletizing parts & accessories to ensure consistent and safe arrival at the job site.
Designing an alignment sleeve to keep the inner and outer SAFE-Tanks positioned correctly, ensuring customer-installed transition fittings are installed easily.
Implemented a procedure to keep tank manways covered before and during shipment, meaning tanks are clean inside and out upon arrival.
Partnered with FRP ladder vendors to improve packaging of ladders and accessories for safe transport.
Additional pallet sizes added to the customer offering so that the right pallet protection is always available.
Because installed fittings protrude from the tank, they are more likely to be damaged in handling and shipment; we've added extra protection to protect these fittings.
In most cases (except LTL carrier loads in vans), before a chemical storage tank system leaves our plant for delivery, Poly Processing takes pictures of all tanks and loads, including the accessories, for quality assurance.
Post-Arrival Chemical Storage Tank Installation and Operation Procedure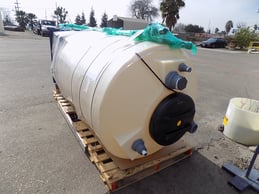 After chemical storage tank delivery, Poly Processing field service representatives are available for on-site follow-up visits if needed. Please check with a Poly Processing representative regarding costs for site visits.
In the off chance that a chemical storage tank is delivered with minor cosmetic damage and a touch-up repair is required, we'll make it right. Our field service team will either send a repair kit with silicone, paint, and instructions or a field service rep will repair the damage on-site.
Learn more about how we protect your chemical storage tank system during the shipping process and throughout the tank's life by contacting a chemical storage tank expert today.
Tech Talk Podcast Episodes
Tank Configurator

Find the recommended tank and system components for your chemical storage challenge.
Configure a Tank Package