Safe Acetic Acid Storage and Use
Poly Processing
Acetic acid is a versatile, common chemical that's used for a variety of purposes. The colorless liquid usually has a sour odor and can cause physical harm if it isn't handled correctly. It is critical to ensure that you design a proper storage solution because improper acetic acid storage can risk the health of the people who work near it.
Common Acetic Acid Applications
Acetic acid is used in concentrations for a variety of purposes, including the following applications:
Chemical compounds. Acetic acid is a chemical reagent in the production of a number of chemical compounds. It is mainly used in the production of vinyl acetate monomer, acetic anhydride, and ester production. Vinyl acetate monomer, or VAM, is a building block used in many industries to make paints, adhesives, and packaging.


Purifying organic compounds. In this application, acetic acid is used as a solvent for recrystallization.


Medical use. The acid can be used as an antiseptic against pseudomonas, staphylococci, enterococci, streptococci and other bacteria. It's also used in cervical cancer screening. The World Health Organization has listed acetic acid in its list of essential medicines.


Household products. One of the most common forms of acetic acid is household vinegar, which is used in a large variety of common foods. Vinegar is typically 4-18 percent acetic acid by mass—a very weak concentration. Stronger solutions are highly corrosive and can be especially hazardous.


Inks and dyes. The chemical is often used in the manufacture of inks and dyes.


Perfume industry. Acetic acid is a common ingredient in manufacturing perfumes.
How to Store Acetic Acid Safely
The particular specifications of your system will depend on the concentration of acetic acid being stored. The higher the concentration, the more difficult it can be to store acetic acid. Poly Processing tanks can effectively store acetic acid concentrations up to 80%.
Storage tank material
To meet the standards in the our online chemical resistance guides, we highly recommend high-density cross-linked polyethylene (XLPE) storage tanks. XLPE tanks are more durable than other kinds of polyethylene tanks and give the end user a greater useful life.
Chemical concentrations
Our online chemical resistance chart shows that all concentrations can be stored at up to 100 degrees F, but only less potent solutions can reach higher temperatures. Many of our fittings and gaskets give you excellent performance, and your specific application will determine the correct package for your needs.
Chemical fumes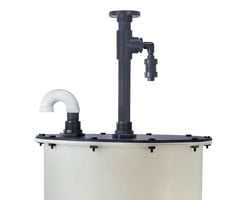 Acetic acid emits corrosive fumes that can damage equipment, harm the environment and injure your employees. Poly Processing offers several products to scrub vapors from tanks by removing or neutralizing the fumes.
Poly Processing offers a cost-effective polyethylene chemical storage tank scrubber solution called PolyScrub™. As a wet scrubber, the PolyScrub system introduces water or a specific scrubbing solution through a submerged plenum. The fumes percolate up and through the scrubbing solution, then vent out of the top of the scrubber system.
PolyScrub Plus is our newest scrubber, which actively monitors and automates pH control to ensure maximum performance.
The Poly Processing Difference
As a highly corrosive and hazardous chemical, acetic acid needs to be properly handled and stored in storage tanks backed by a company that understands effective storage. With over 40 years of experience in storing acetic acid, we've developed a storage solution that uses longer-lasting, more robust high-density cross-linked polyethylene.
Some tank manufacturers use linear polyethylene instead of cross-linked polyethylene because XLPE is more expensive to manufacture and more difficult for these larger systems. But we work to meet the highest possible standards.
Tech Talk Podcast Episodes
Tank Configurator

Find the recommended tank and system components for your chemical storage challenge.
Configure a Tank Package