What You Need to Know About Tank Blanketing Systems
Poly Processing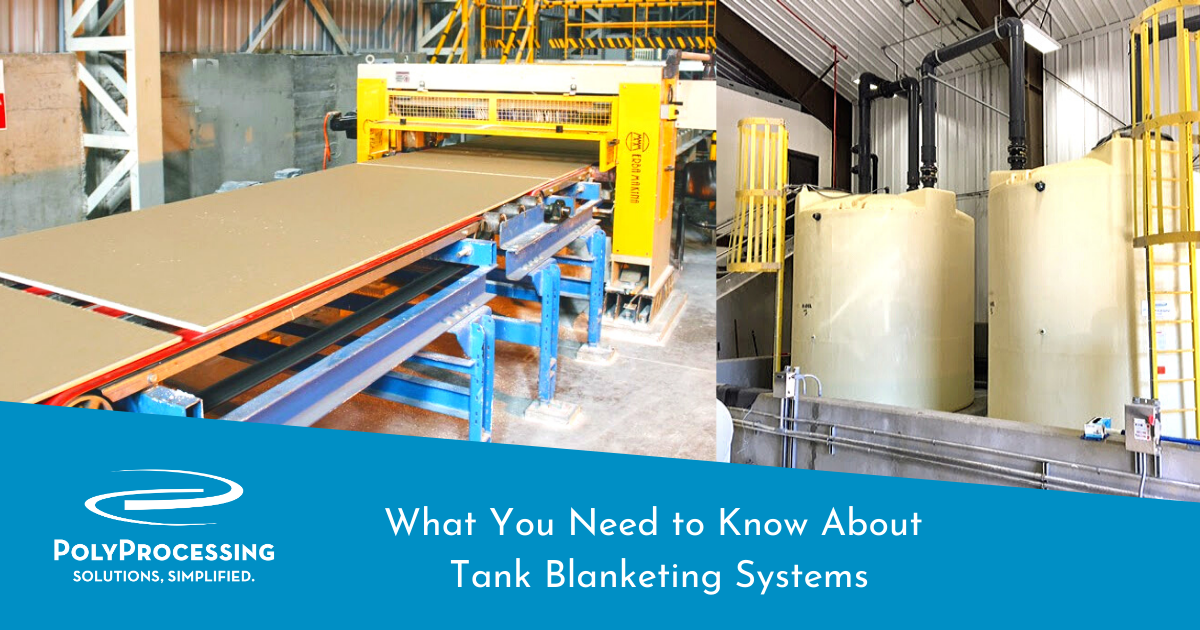 For many industries and facilities, oxygen is bad news for some chemicals stored in tank systems. Often, when the storage material comes in contact with oxygen, the substance oxidizes and degrades, or it can dry out. In any scenario, coming into contact with oxygen means you've lost product — which translates to less revenue and costs of replacement.

Tank blanketing helps prevent contact with oxygen, and Poly Processing is your partner for protecting your stored materials.
What is Tank Blanketing?
A tank blanket is a cushion of gas that fills the empty space at the top of a tank. This vapor space protects the stored product from exposure to oxygen, to prevent oxidation, crusting, or spoiling.
When the tank is drawn down, the nitrogen system fills the vacant space automatically. There's a pressure gauge on the tank, and as pressure begins to drop, nitrogen is automatically added. Because we're dealing with polyethylene storage tanks, the required pressure is very low — normally, less than .36 PSI.
Most often, nitrogen is used for tank blanketing because it's an inert gas that doesn't interact with the chemicals and products stored in the tank. The gas inhibits vapor loss, and protects chemicals, pharmaceuticals and foods from moisture degradation. Nitrogen is also fairly inexpensive and is widely available, making it an ideal choice in tank blanketing.
In addition to reducing oxidation and extending the shelf life of a chemical, tank blanketing also helps prevent contaminants from entering the storage space. It does this by creating a very slight pressure inside the tank that presses outward on the sides of the container. If there's a leak, the gas will be forced out instead of allowing bacteria, dirt, and other contaminants in.
Design Requirements for Tank Blanketing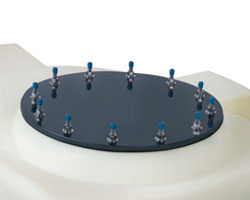 A few considerations must be factored in when designing cross-linked polyethylene tanks for tank blanketing. First, the tank must have a pressure relief valve. The valve must be set to a pressure that's high enough to prevent oxygen from entering the tank, yet low enough to vent out nitrogen if the pressure within the tank is too high. Cylindrical polyethylene storage tanks should never exceed a 6 inch water column or .36 psi, or else you risk loss of contents. Poly Processing's engineering team can assist with the proper relief valves for your system.
When using inert gases such as nitrogen, strict protocols must be followed to ensure that workers are not exposed to harmful or lethal doses of any non-breathable substance. Additionally, in the United States, OSHA regulates any commercial use of tank blanketing.
The other required part of a tank designed for tank blanketing is a sealed manway. If your manway cover isn't fume-tight, the nitrogen blanket could seep out, putting your stored chemical at risk of oxidation.

The Best Systems for Tank Blanketing
Cross-linked polyethylene (XLPE) tanks are a better option for tank blanketing than other chemical storage systems, such as stainless steel or fiberglass reinforced plastic (FRP). Polyethylene can last longer than other materials, and it's more cost-effective. Stainless is often considered a standard for the food industry, but it's also very expensive. FRP, on the other hand, is not nearly as robust as XLPE, which has a broader range of chemical compatibility.
Poly Processing has had great success in protecting our customers' inventories. National glue and paint companies rely on Poly Processing for superior cross-linked polyethylene chemical tanks to protect and store their products.
Choose a tank blanketing storage solution that's affordable and lasts for years. Contact us today to discuss XLPE tank blanketing.

Tech Talk Podcast Episodes
Tank Configurator

Find the recommended tank and system components for your chemical storage challenge.
Configure a Tank Package