Updated Installation, Operation, and Maintenance Manual
Poly Processing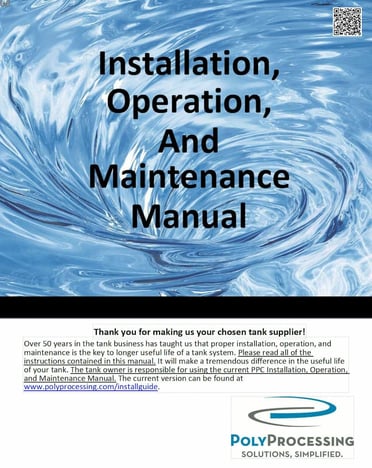 Here at Poly Processing, we spend a lot of time getting the tank built to spec, but if a tank is not installed correctly it could lead to damage, leaks, safety issues for personnel, and ultimately a shorter tank life. That's why we take chemical tank installation seriously.
Our customers rely on our Installation and Operation Guide to help with proper install of each chemical storage tank we provide. We've updated the guide to include more detail and instructions based on feedback from our customers. The new guide continues to focus on giving installers a simple, yet safe and effective way to correctly install and maintain a tank system.
Chemical Storage Tank Installation Guide Highlights
Here are a few important highlights from the Installation and Operation Guide that we feel are critical for our customers:
Emphasis on the importance of proper venting – The guide contains the venting table along with engineered lids to make sure your tank performs correctly for many years.
Fitting Information – Including torque values and techniques, proper gasket placement, and assembly instructions.
Off-Loading Instructions and Photos – To ensure proper off-loading at the customer's site.
Internal / External Plumbing.
SAFE-Tank Bellows Transition Fitting Installation Instructions.
Flexible Connectors – The importance of having flexibility built into the plumbing attached to the lower sidewall of the tank.
Ladder Components and Installation Instructions.
Restraint Systems Installation Instructions.
Start-Up Checklist.
After you've successfully installed your tank, we also have provided plenty of resources to reference throughout your polyethylene chemical storage tank's life. These resources are also a part of our Installation and Operation Guide, and include:
As always please reach out with questions. Our goal is securing your personal safety, and ensuring the safety of your investment in a chemical storage tank system.
Download your copy of the updated installation and operation guide today.
Tech Talk Podcast Episodes
Tank Configurator

Find the recommended tank and system components for your chemical storage challenge.
Configure a Tank Package