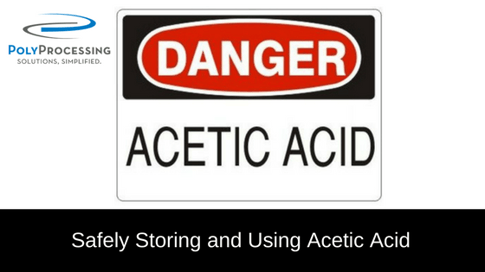 Acetic acid is a versatile, common chemical that is used for a variety of purposes. This colorless liquid usually has a sour odor and can cause physical harm if it isn't handled correctly. Acetic acid needs to be stored correctly to eliminate the risk of health problems for the people that work near it.
Let's look at the various uses for acetic acid and how to build a proper storage solution for this particular chemical.
Acetic Acid Uses
Acetic acid is used in various concentrations for many different purposes, such as the manufacturing of cellulose acetate, commonly employed as a film base by photographers, and polyethylene terephthalate, a component of soft drink bottles and water bottles. Acetic acid is also used in the following applications:
Producing chemical compounds. Acetic acid is a chemical reagent in the production of a number of chemical compounds. It is mainly used in the production of vinyl acetate monomer, acetic anhydride and ester production. Vinyl acetate monomer, or VAM, is a building block used in many industries to make paints, adhesives, packaging, and more.


Purifying organic compounds. In this application, acetic acid is used as a solvent for recrystallization.


Medical use. The acid can be used as an antiseptic against pseudomonas, staphylococci, enterococci, streptococci and others. It's also used in cervical cancer screening. World Health Organization has listed acetic acid in its list of essential medicines. One of the most common forms of acetic acid is household vinegar, which is used in a large variety of common foods. Vinegar is typically 4 -18% acetic acid by mass—a very weak concentration of acetic acid. Stronger solutions are highly corrosive and can be especially hazardous.


Manufacturing inks and dyes. The chemical is often used in the manufacture of inks and dyes.


Perfume industry. Acetic acid is a common ingredient in manufacturing perfumes.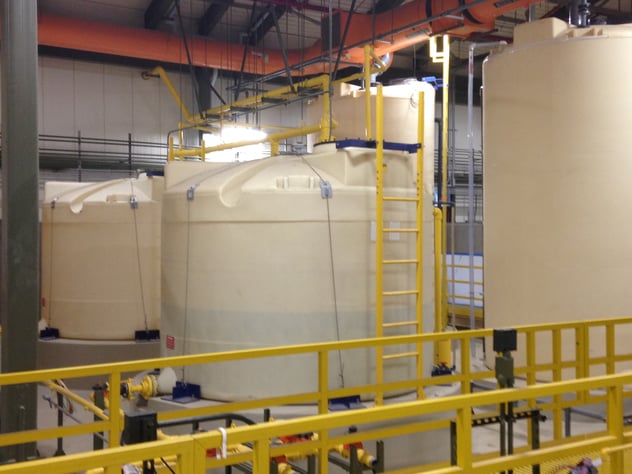 Proper Acetic Acid Storage
It's important to note that the specific characteristics of a storage system depends on the concentration of the acid. The higher the concentration that you're storing, the more difficult it can be to store acetic acid. The standards from the Philip A Schweitzer Corrosion Resistance Tables and the Kenneth M. Pruett's Chemical Resistance Guide show that Poly Processing tanks can effectively store acetic acid concentrations up to 80%.
To meet the standards set in place in the chemical resistance guides, we recommend high-density cross-linked polyethylene storage tanks. These tanks are more durable than other kinds of polyethylene tanks because they are crosslinked with thermoset plastic during manufacturing and are much more durable than linear polyethylene tanks.
The chemical resistance chart on our website shows that all concentrations can be stored at up to 100 degrees F, but only less potent solutions can reach higher temperatures. Many of our fittings and gaskets are appropriate for this solution, but your specific application will determine the correct package for your needs.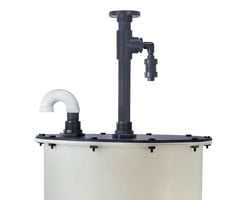 There is also the matter of including scrubbers on acetic acid storage tanks. These scrubbers remove or neutralize harmful substances that are emitted from chemical fumes in a storage system and are important so that in the event that fumes are released from the tank, they do not cause any harm to the environment.
Poly Processing offers severall great products to help scrub exhaust from tanks, including our PolyScrub tool, a wet scrubber system that works by scrubbing the chemical fumes that are released with either a scrubbing solution or water.
The Poly Processing Difference
As a highly corrosive and hazardous chemical, acetic acid needs to be properly handled and stored in storage tanks backed by a company that understands effective storage. With over 40 years of experience in storing acetic acid, we've developed a specific storage solution that uses longer-lasting, more robust high-density cross-linked polyethylene (XLPE).
Some tank manufacturers use linear polyethylene instead of cross-linked polyethylene, because XLPE is more expensive to manufacture and more difficult for these larger systems. But we work to keep our tanks in-line with the highest possible standards.
If you'd like to learn about designing your own acetic acid storage tank, contact a chemical storage tank expert today.