Read This Before Purchasing a Sulfuric Acid Tank
Poly Processing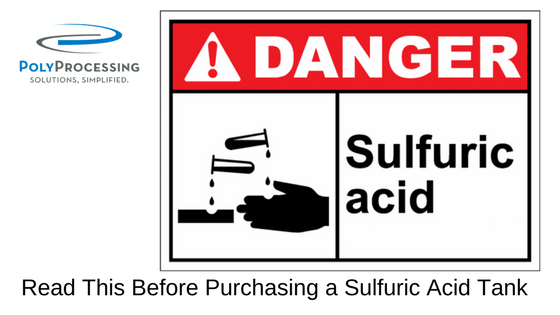 Storing sulfuric acid is no cake walk. Sulfuric acid presents serious storage challenges that you need to be fully prepared to handle:
The chemical is extremely heavy and will test the mechanical integrity of your storage tank.
Adding water to concentrated sulfuric acid will create a toxic aerosol or a potential explosion.
Highly flammable hydrogen gas can be created if sulfuric acid is spilled on metals.
Sulfuric acid can cause serious burns on the skin—even more serious than other acids.
Reducing these risks requires a specialized storage tank system. Purchasing the right chemical storage tank is simple when you contact a Poly Processing chemical storage tank expert . We can recommend the right steps to purchasing a reliable storage tank for your sulfuric acid application.
Selecting the Right Polyethylene Storage Tank for Sulfuric Acid
Start by answering the following questions about your application to guarantee that you make the right choice.
What Chemical Is Being Stored?
Sulfuric acid will determine which storage system we recommend. Certain tank materials, such as the OR-1000 system, are necessary for oxidizing chemicals like sulfuric acid. The chemical being stored determines the fittings, venting, and other tank components.
Do you need technical assistance?
Our inside sales team can provide a standard package for a sulfuric acid tank system quote. This would also include a basic design drawing as a starting point. From there, we can help you customize the tank to meet your specific needs.
What are the location of fittings and accessories on the tank?
Based on facility requirements, such as necessary plumbing locations, we can produce CAD drawings. We will customize and modify the drawings as needed until final approval.
Do you need municipal bid specs?
We can help municipalities and engineering firms throughout this process. We help with the initial tank design and bid specifications to project-specific submittals for sulfuric acid tanks, or a myriad of other chemicals.
Get the Process Started
Ready to purchase a chemical storage tank? We make the process simple. Choose one of these options to get started:
Configure a Tank
Use our online request system to submit your project specifications easily and at your convenience. The Poly team will review your requirements and create a custom tank configuration package for your application.

Poly Processing's SAFE-Tank®, a tank-within-a-tank design, is a smart choice for minimizing sulfuric acid leaks, while providing secondary containment. However, some individuals already have secondary containment in place. A Vertical Tank with an IMFO® Fitting minimizes the chance of fitting leaks and maximizes the structural strength of the sulfuric acid tank.
Request a Quote
If you would like a price quote and know the specifics of your sulfuric acid storage application, use our Request a Quote form and we'll provide a price quote for your project.


Contact a Chemical Storage Tank Specialist Directly
Contact a chemical storage expert if you need additional assistance. Our experts will work with you to build the proper sulfuric acid chemical storage system that meet your specific requirements or budget pricing.
Tech Talk Podcast Episodes
Tank Configurator

Find the recommended tank and system components for your chemical storage challenge.
Configure a Tank Package