Backup Chemical Tanks When You Can't Run Out!
Poly Processing
Throughout the country, and even in the global market, the demand for chemicals has led to shortages of many raw materials. At Poly Processing, we're seeing this occurring in several industries and geographical areas.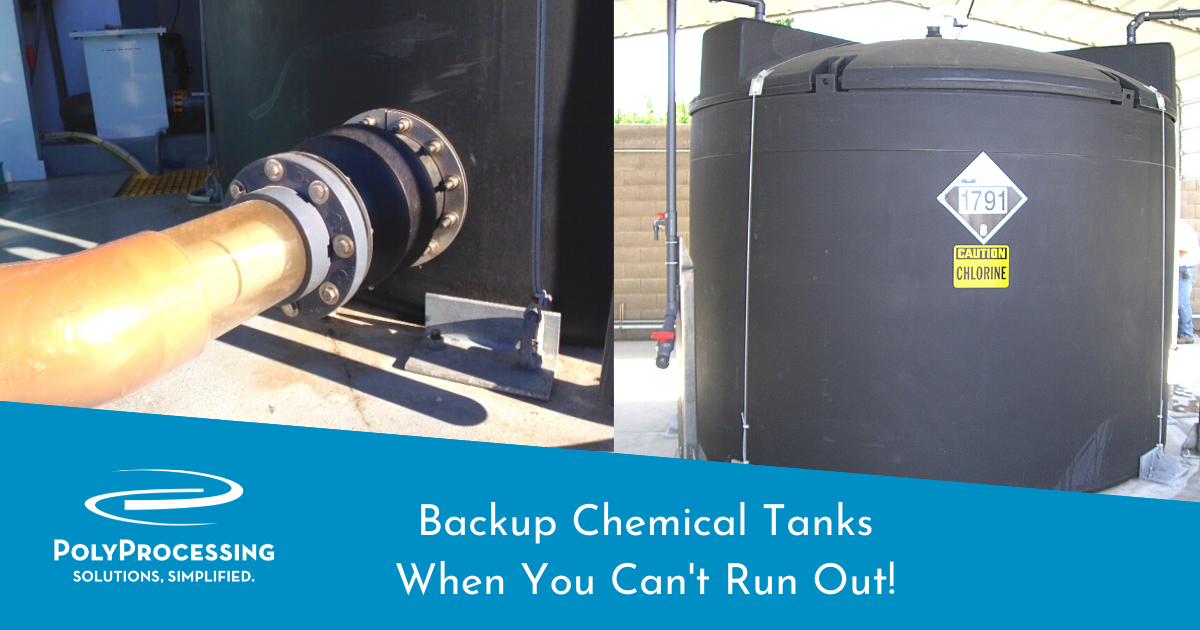 Some agricultural chemicals such as herbicides and fungicides are in tight supply due to shipping backlogs and pandemic-related delays. In addition, citric acid, glycerin, and acrylic acid are at the top of the list of hard-to-get chemicals.
In June 2021, the US Department of Homeland Security reported a chlorine shortage in California which may affect water/wastewater operations. A portion of a letter written on June 30, 2021 by Michael S. Regan, Administrator of the United States EPA, discusses "challenges that some water systems have recently experienced in procuring gaseous chlorine, sodium hypochlorite and calcium hypochlorite. Several water utilities across multiple states - California, Idaho, Illinois, Indiana, New York, Oregon and Washington - have received force majeure notifications, even reducing chlorine allocations in some cases, from suppliers due to supply shortages across the industry."
Whether you're in the industrial, municipal, or agricultural market, chemical shortages may be on the horizon. To mitigate the issues that a shortage can create, many facilities are stocking up on the chemicals they need while they're still available. If you don't have backup tanks to store a surplus of chemicals, now is the time to invest in additional storage tanks.
In many cases, delivery lead times are beginning to get extended, as well. When your primary tank is close to empty, your supplier may not be able to fill it up as quickly as normal. Having a second tank as a backup can provide assurance that you're covered when you need to be.
We want you to know that we are here to support your efforts by supplying you with high-performance tanks enabling you to stock-up when your supplier has availability. Poly Processing can help you solve your chemical storage challenges and help you manage your risk.
If you're storing hazardous chemicals, your chemical tank in most cases must have some kind of containment barrier. If a leak occurs, the containment should be designed to prevent the chemical from coming into contact with the environment and your employees.
With Poly Processing's double-wall SAFE-Tank®, you don't need concrete containment for backup tanks.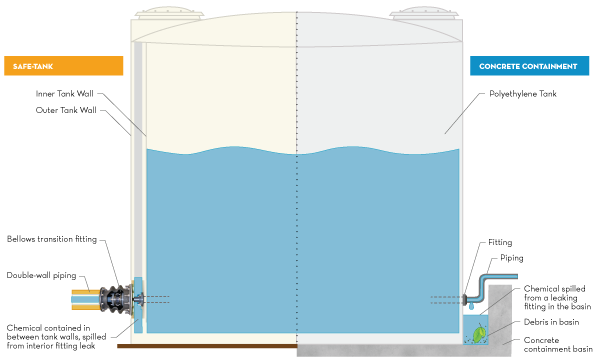 Peace of Mind with Poly Processing's SAFE-Tank®
Poly Processing helps reduce overall costs with our innovative double-wall "tank within a tank," called the SAFE-Tank. The SAFE-Tank is the industry leading double-wall storage system with an interstitial space between two tank walls — and it's an ideal solution as a backup tank for hazardous materials. If a leak occurs in the primary tank, all of the leaked chemical is designed to stay within the interstitial space—preserving your chemical while containing the spill in a small footprint.
Check out this video for a closer look at how the industry leading SAFE-Tank® system works.
Business Advantages of the SAFE-Tank®
The SAFE-Tank system offers safe storage of a wide variety of chemicals without the expense of needing to construct permanent containment, such as a concrete berm or basin. This gives you cost effective flexibility for changing industrial applications. As chemical storage configurations may change to meet dynamic needs, you can move your backup tanks without the expense of additional containment structures.
The SAFE-Tank double wall system also provides the following advantages for your business:
110% secondary containment. The double wall chemical storage tank system uses equalization to provide a minimum of 110% of the working volume of the primary tank.
Liquid equalizes in the event of a leak. This allows you to continue using the chemical within the primary tank until the tank system can be emptied, inspected, and repaired if necessary.
Durable polyethylene. The outer tank is constructed with the same high-density crosslinked polyethylene (XLPE) as the inner storage tank. XLPE is specifically engineered to accommodate the demands of chemical storage.
Lower costs and maintenance. The self-contained double wall that a SAFE-Tank offers is much less expensive upfront and easier to maintain than a concrete berm or basin.
Ideal for sulfuric acid and other harmful chemicals. The double wall storage tank eliminates potential exposure and dangerous chemical reactions, such as sulfuric acid to water.
Excellent for outside storage. The SAFE-Tank secondary containment vessel is sealed from the elements and designed so that no debris or rainwater should contaminate the chemical being stored.
Bottom discharge. A bellows transition fitting enables discharge from the bottom of the tank, while maintaining the integrity of the containment. The bellows transition fitting permits safe chemical discharge from the primary tank. It also allows the tank to expand and contract due to filling, emptying, and temperature variation.
The SAFE-Tank is designed with wall thicknesses equal to or greater than that required by ASTM D-1998 standards. The system is available from 55 gallons to 8700 gallons.
SAFE-Tank®Accessories
Poly Processing's double wall SAFE-Tanks can be customized by adding accessories to fit your specific needs. Some of our most popular double wall tank accessories include:
Bellows Transition Fitting
Seismic Restraint Systems
Wind Restraint Systems
Ultrasonic level Indicator
Leak Detection Systems
Heat Maintenance Systems
Ladders
Overflow Assembly
Fill Lines
The Smart Chemical Storage Solution
Safe chemical storage is smart chemical storage, whether it's your primary tank or a backup tank. The costs associated with damage from a chemical leak or spill are serious for any business. In addition, it's expensive to take a tank offline and interrupt operations for repair. The backup SAFE-Tank system helps to eliminate these costs, maintenance and safety concerns while making it easy to keep your chemical supply well stocked during chemical shortages and delayed deliveries.
Don't get caught unprepared for supply chain interruptions. Talk to a Poly Processing chemical tank expert now to get your backup tank on-site as quickly as possible.
Tech Talk Podcast Episodes
Tank Configurator

Find the recommended tank and system components for your chemical storage challenge.
Configure a Tank Package