The Best Storage Tanks for Glues and Adhesives
Poly Processing
Liquid glues, or white glues, are water-based adhesives that are used in a wide variety of applications. They're popular, because they are eco-friendly, non-toxic, easily recyclable, and safe to handle.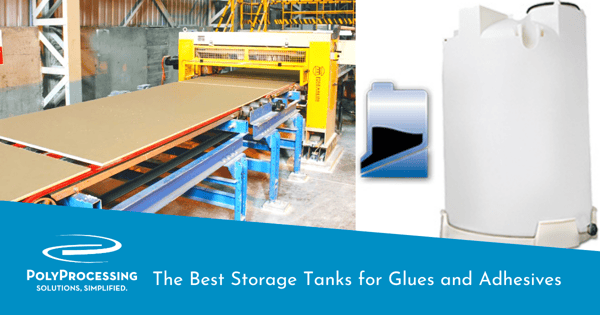 Most liquid glues don't need to be heated before application and they clean up easily with water. These versatile adhesives have many uses, including packaging. Many of our customers that store liquid glues are cardboard box manufacturers. They trust Poly Processing because they know that our cross-linked polyethylene (XLPE) tanks provide an ideal storage solution for glue.
Sloped-bottom IMFO® Tank Excels for Glues and Adhesives
Poly Processing's sloped-bottom IMFO tank is an ideal solution for heavier materials such as glues and adhesives. The gravity feed allows these heavier substances to discharge more easily, preventing sediment or sludge buildup.
It also makes tank maintenance and cleaning easier. There's no need for a confined-space entry, and no need to get in with a mop or pressure washer. The sloped-bottom IMFO tank can be cleaned from the top manway, or with a spray ball installed in the dome.
Preventing Drying During Storage
In many cases, oxygen is bad news for glue, because it can dry out the product, creating losses for the company. It's essential that your storage tank is able to prevent oxygen from coming in contact with your stored glue. Tank blanketing helps prevent contact with oxygen, and Poly Processing is your partner for protecting your stored materials.
A tank blanket is a cushion of gas — usually nitrogen — that fills the empty space at the top of a tank. This vapor space protects the stored product from exposure to oxygen, to prevent crusting or spoiling.
When the tank is drawn down, the nitrogen system fills the vacant space automatically. There's a pressure gauge on the tank, and as pressure begins to drop, nitrogen is automatically added. Because we're dealing with polyethylene storage tanks, the required pressure is very low — normally, less than .36 PSI.
XLPE tanks are a better option for tank blanketing than other chemical storage systems, such as stainless steel or fiberglass reinforced plastic (FRP). Polyethylene can last longer than other materials, and it's more cost-effective. Stainless steel is often considered a standard for many industries, but it's also very expensive. FRP, in a lot of cases, is not nearly as robust as XLPE, which has a broader range of chemical compatibility.
Poly Processing has had great success in protecting our customers' inventories. National glue and paint companies rely on Poly Processing for superior cross-linked polyethylene chemical tanks to protect and store their products.
Choose a tank storage solution for your glue supply that's affordable and lasts for years.
Contact us today to discuss sloped-bottom tanks and tank blanketing systems. We can design the best storage solution to meet your specific needs.
Tech Talk Podcast Episodes
Tank Configurator

Find the recommended tank and system components for your chemical storage challenge.
Configure a Tank Package