Sodium hypochlorite, or bleach, is one of the most commonly used chemicals across all industries. But that doesn't mean you should use a common chemical storage system to contain this aggressive oxidizer. Whether you're using a bleach concentration of 0.8%, 6%, or 12.5%, sodium hypochlorite will attack your storage tanks more aggressively than most other solutions. Without the proper storage tank system, you could be looking at a catastrophic failure in less time than you expect.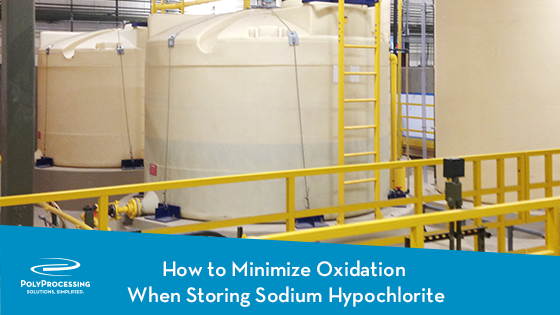 A chemical breach involving sodium hypochlorite can be hazardous to your equipment as well as your employees. But with the right storage system, you can avoid damage while extending the life of your chemical storage tank.
Sodium Hypochlorite Storage Solutions
One of the challenges in storing any oxidative chemical is engineering the tank to not only store the chemical but to give the end user a life expectancy and a measure of safety with the tank. It is critical to design the storage tank with the chemical in mind.
Poly Processing works with leading universities to develop engineered polymer systems that will perform above and beyond standard polyethylene in harsh, oxidizing environments. Our OR-1000™ and IMFO® systems are specifically designed to meet the aggressive oxidation of chemicals like sodium hypochlorite. Here's how we've done that.
Extra Layer of Protection
The OR-1000™ system consists of an engineered inner tank polyethylene. This inner surface is made of medium-density polyethylene, specifically formulated to resist oxidation. The system's outer surface is made of high-density crosslinked polyethylene, for superior strength. The two surfaces are molecularly bound together during the rotomolding process, creating a seamless bond between the XLPE and the inner surface of the polyethylene tank.
The OR-1000 provides four times the antioxidant power of a standard tank wall, and the longevity of tank life is ten times greater than other polyethylene tanks. In one academic study, after 9 months of exposure to sodium hypochlorite, conventional polyethylene became 30 percent more brittle, while the OR-1000 only became three percent more brittle.
Get the details on storing sodium hypochlorite—download our Sodium Hypochlorite Guide
Reduced Tank Fittings
To help minimize oxidation around mechanically fastened fittings, your tank should have as few tank sidewall fittings and connections as possible. Poly Processing's innovative IMFO system eliminates bulkhead and traditional sidewall fittings. A full-drain flange is molded into the polyethylene plastic tank to drastically reduce the potential for leaks from oxidation. In addition, the IMFO system makes it easy to maintain gaskets on the bulkhead fitting, from the tank's exterior.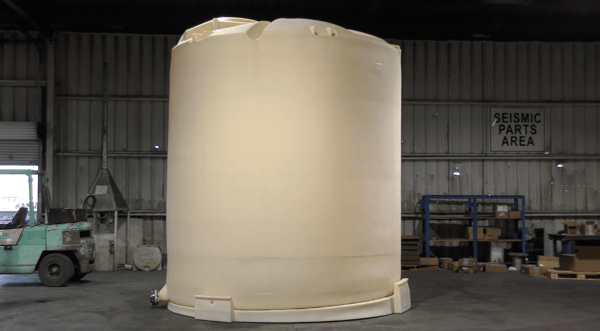 In addition, bleach contains heavy metals. Over time the metals settle out and fall to the bottom of the tank. When you add new bleach, it could cause a reaction that releases free radicals into the vapor space of the tank. This oxidizes the tank more quickly, so it's important to fully drain your tank every time. The IMFO system which is also available on our Sloped Bottom IMFO tank is specifically designed to make full-tank draining user friendly, flushing out heavy metals before every refill.
Storage Solutions You Can Rely On
With the one-two punch of the OR-1000 and IMFO systems, Poly Processing offers the superior storage solution for sodium hypochlorite. Poly Processing is the only company to offer a published warranty for sodium hypochlorite storage systems over one year.

Get more details about storing bleach safely—