Safe operation and minimizing the risk and hazards associated with spills and leaks is vital in storage of chemicals. An effective way to contain the spill or leak is a secondary containment system--a double wall tank, or "tank-within-a-tank." We'll explore the advantages of a secondary storage tank containment system in this article.
More than a Tank: It's a complete system for secondary containment
The Poly Processing SAFE-Tank® is a "tank-within-a-tank" system that keeps contaminants, such as debris and rainwater, from entering the interstitial area. These tanks provide secondary containment to avoid damaging equipment or property, loss of chemical, or injury to employees in the event of a spill. The SAFE-Tank® provides a leveraged investment that offers peace of mind and environmental care.
Advantages of the Poly Processing SAFE-Tank® Secondary Containment Tank System
Provides 110% secondary containment.
Will equalize the liquid and allow the chemical to be used until it is convenient to inspect and repair the tank.
Is ideal for chemicals like sulfuric acid that can have dangerous exothermic reactions to water.
The expense, cost and maintenance of secondary concrete containment is eliminated.
The footprint of the containment system is minimized. Secondary containment is achieved in a more compact way.
A Look Inside the SAFE-Tank® Storage and Containment System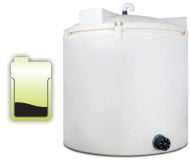 The SAFE-Tank® storage and containment system includes an open top inner tank within a closed outer containment tank. Since the tank includes a closed top on the outer tank, it's an excellent tank for outdoor placement. The closed top outer tank prevents debris and rainwater from entering the space between the tanks. This minimizes maintenance costs of the tank.
Both the inner and outer tanks are constructed using high density crosslinked polyethylene (HDXLPE). As mentioned under the list of advantages above, this innovative storage tank design eliminates the need to build large, costly, high-maintenance concrete containment areas. In the event of a chemical spill, the SAFE-Tank®'s "tank-within-a-tank" design serves to protect the containment area. Reactive chemicals are isolated, employees protected from harm, and your risk of environmental remediation is minimized, all within the footprint of a standard vertical tank.
It should be noted, however, that one disadvantage of the SAFE-Tank® Storage and Containment System is that since the outer tank completely encloses the inner tank, a visual inspection for leaks is impossible. To overcome this challenge, the Optic Leak Detection Switch can be added to monitor leaks in secondary containment systems. The submersible sensor is mounted in the interstitial space of the tank to warn of any leaks from the inner primary storage tank.
Explore more advantages about secondary containment systems and get insight on this innovative design in our eBook,
Choosing the Right Secondary Containment System
.